If, as Forrest Gump suggested, life is like a box of chocolates, then Sunday's Christmas Concert in the Boys' Chapel was a smorgasbord of magical auditory delights. Compacted into a two-hour feast, we were treated to glorious voices, memorable solo performances and the respective, collective splendours of the Senior and Elements' Choirs, the Orchestra and the Brass Ensemble. Trumpets and ragtime, flute and piano provided tasty fillings and the Trad Group supplied some lively jigs and reels.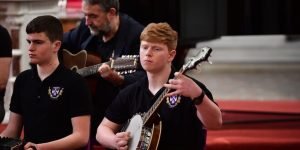 One of the highlights of the Christmas season in Clongowes, this traditional event has been a feature of the calendar for many years and is an opportunity to appreciate the talents and hard work of the many musicians in the school in an appropriately festive atmosphere. The quality and variety of performances were exceptional and the atmosphere was great.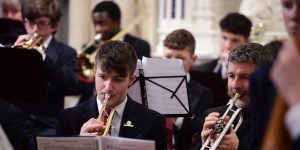 A particular thank you to those responsible for the Choir (Ann Conaghan, David Scott, with help from Catherine Heslin and Fergus Conaghan), the Trad Group (Catherine Heslin with help from Shane Heslin and Noel Mason), the Brass Ensemble (Martin Smutny) and the Orchestra (Philip and Theresa Thomas with help from Eileen Lumb).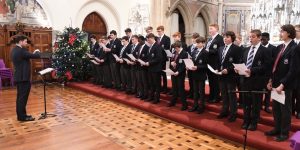 Congratulations to all in the Music Department for nurturing such great talent! The packed chapel was very appreciative and enjoyed the whole atmosphere of the afternoon. Thanks to the Parents Association for the mulled wine and mince pies! Thanks also to Santa and 'Mrs' Claus for bringing some chaos to the harmony, providing some delightful humour (and some great photographic content for the website) for young and old alike! The silent collection for Br Charlie O'Connor s.j. and The Society for the Relief of the Poor and Aged raised €1035. Charlie wishes to pass on his thanks to everyone who contributed, and assures them that their money will go to very good use for those who need a helping hand.