Would you like to leave a Legacy to us in your Will?
Please click on the image for more information or contact Joe jrooney@clongowes.net or Antoinette antoinettekelly@clongowes.net at the Foundation office (+353 (0) 45 902 334)
Remembering Clongowes in your will is a way to leave a lasting legacy for those yet to follow in your footsteps.  Past pupils and friends of Clongowes can support the future of the college by including Clongowes Wood College as a beneficiary in their estate.  By informing the College/Foundation of your intentions you become a member of the Father Peter Kenney Legacy Society.  A special plaque in the Boys Chapel honours members of the Society for their benevolence in leaving a bequest to Clongowes.
Those mentioned below along with many others, some of whom prefer to remain anonymous, have made a wonderful contribution to Clongowes as it continues to evolve and hold its special place at the forefront of Irish education. All donors are also remembered annually at our Mass of Thanksgiving for Benefactors and Donors which takes place in December.
Bequests can be made to support the College Development or specifically for the Alberto Hurtado Programme or the Alberto Hurtado Endowment Fund.
Clongowes first recorded bequest – Mrs Olivia Taaffe
The Editorial of the 1919 Clongownian acknowledged a donation of £300 bequeathed by the late Mrs. Taaffe of Smarmore Castle, County Louth, for the New Chapel.  Olivia Mary Blake was born in 1832 and married John Joseph Taaffe in 1867. The Taaffes were a well-known, land-owning family who, legend has it, came to Ireland from Wales in 1196. Their son George Robert was in Clongowes from 1882 to 1884 and died of tuberculosis at the age of twenty-two in Davos Platz, Switzerland, where his mother had taken him. Olivia had previously donated an exquisite statue of St. Joseph and the divine infant to the College in 1896 in Memory of her son, this statue and dedication plaque can be seen today in the Quadrangle. Olivia Taaffe was a generous benefactor to Clongowes and many local causes throughout her life .
Recent Clongowes bequest – Richard Robinson 1920-2019
The Foundation and College are deeply grateful to the late Richard (Dick), Robinson who in his will, generously bequeathed a substantial legacy to the Foundation. Born in 1920, Richard lived into his 100th year.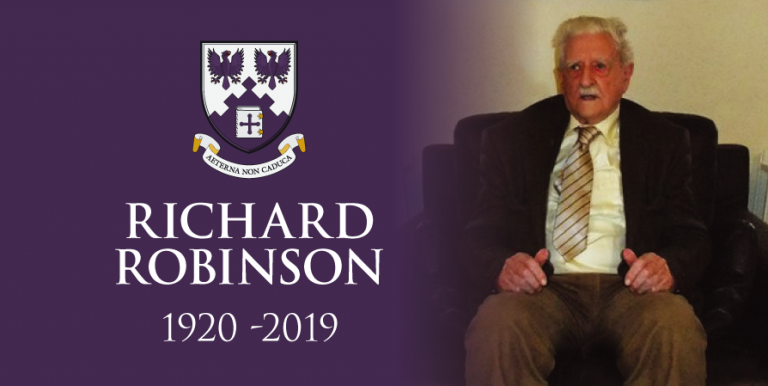 Richard Robinson of Newberry Hall, Carbury, County Kildare, attended Clongowes between 1932 and 1938, where his uncle Fr. Mathias Bodkin S.J. was the Prefect of Studies. Richard's maternal grandfather was Judge Mathias Bodkin K.C., author, journalist and nationalist M.P. for North Roscommon (1892 -95), who was educated at Tullabeg before its amalgamation with Clongowes. Richard's father also attended Clongowes as did his Uncle Richard, who died in his final year on the morning of May 20th, 1900, after a brief illness. His brother Norman, who left Clongowes in 1935, was an officer pilot in the RAF who was killed in action in 1943, after many years of service, at the age of 26.
On leaving Clongowes Richard trained as an aeronautical engineer in Handley Pages in London whilst studying aeronautical engineering.
With the war looming he returned to Ireland and joined the Irish Air Corps, in Baldonnell where he served from 1939 to 1945 while simultaneously completing his studies. After the war he worked in Aer Lingus before returning to Newberry Demesne where he developed a deep knowledge in sheep husbandry.
Richard died on 24th October 2019 and was predeceased by his wife Margaret who was sadly killed in a car accident in 1971 a few years after they were married. His sister, Nora, died in 1984.
Richard's legacy helped fund the refurbishment of the Infirmary and support the Alberto Hurtado Endowment Fund thereby ensuring that his benevolence will positively impact on the lives of future generations of Clongowes' students.
The above is a shortened version of an Obituary published in 2019.
Joe Rooney (OC '1979), Clongowes Wood College Foundation with help from James Robinson, Executor of the Estate