Jane Mitchell, author of 'Chalkline' with members of Rudiments Book Club, comparing covers of English and French versions of the novel.
Members of the Rudiments' Book Club received a treat this morning (October 18th) when Ms Jane Mitchell, author of the remarkable Chalkline, visited them. Endorsed by Amnesty International (UK) for contributing to highlighting human rights and the values on which they are founded, the novel gives the students an insight into the life and mind of a child soldier. Jane told the boys how the seeds of her phenomenal book were born out of a love for a country she barely knew.
Chalkline is a story about Rafiq, a young boy who lives in a small, poor, rural village in the disputed land of Kashmir. Freedom fighters raid his village in search of new recruits. Tall for his age, he is the first to cross the 'chalk line' into a life of brutality and violence. He is shoved into the back of a truck and is taken away to a camp, high in the snow-capped peaks of the Pir Panjals. While Rafiq is being trained to destroy lives, his sister Jameela is determined to get hers back – by finding Rafiq.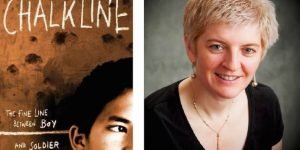 Ms Mitchell told about her travels and places where she had helped people to get back on their feet. She told stories of how she saw a bull sitting in the middle of a train station in India and of helping in a refugee camp in Calais, where more than seven thousand refugees lived in inhuman conditions. All of these factors and experiences brought her to write the near perfect novel Chalkline and her brand new adrenaline pumping work, A Dangerous Crossing.
Jane then told the story of a real life child soldier, Ishmael Beah, whom she met and how he was brainwashed into raining havoc and destruction. She infused the characters in her book with these characteristics, giving a real life sense of ferocity and realism to the novel. The themes and setting of the novel give the students a view and experience of the world quite different from their own. From this the boys learnt many things from how tough life is for people just because they are born into a different environment to them as well as the importance of writing from their own experience.