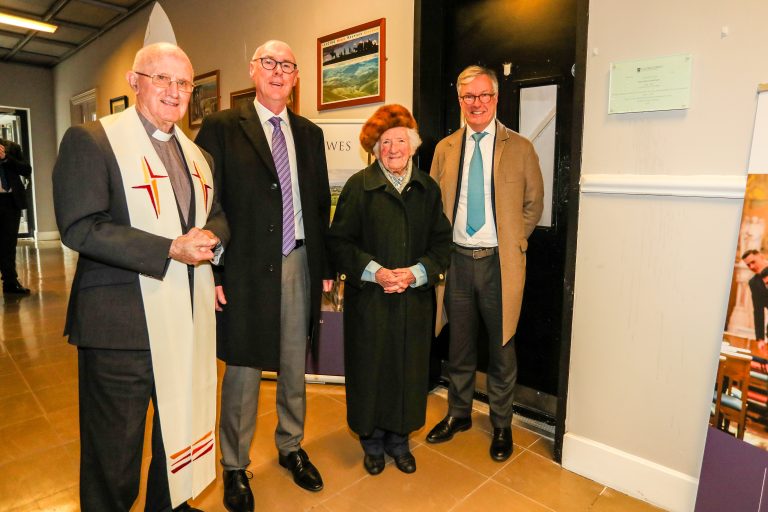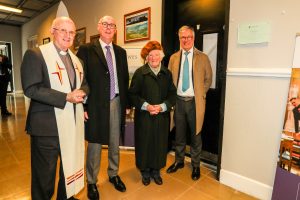 Fr Rector Michael Sheil, Headmaster Chris Lumb, Margaret Horne and Joe Rooney at the plaque unveiling
On Sunday 11th December 2022, Clongowes Foundation hosted a plaque unveiling to honour Richard Robinson OC'38 and his legacy gift to Clongowes. In becoming a key member of the Fr. Peter Kenney S.J. Legacy Society, Richard follows in the steps of Mrs. Olivia Taaffe of Smarmore Castle, County Louth who was the first person noted, in the Editorial of the 1919 Clongownian, to have left a legacy in favour of Clongowes in her will. Richard's legacy helped fund the refurbishment of the Infirmary (originally built in 1872) and support the Alberto Hurtado Endowment Fund thereby ensuring that his benevolence will positively impact on the lives of future generations of Clongowes' students.
We were honoured on the day to be joined by Margaret Horne, second cousin of Richard who shared her memories of Richard (Dick) and expressed how delighted he would have been for his legacy to support students in the College into the future.
Joe Rooney (Chair of Fundraising) in his dedication of the plaque spoke of the positive impact of the Alberto Hurtado Programme and how one of the early Alberto Hurtado Bursary graduates, Seán McMahon (OC'16), entered the Jesuit novitiate in Innsbruck this September.
Fr Rector Michael Sheil blessed the Plaque and remembered Richard along with all who have contributed so generously to Clongowes as it continues to evolve and hold its special place at the forefront of Irish education.
After the unveiling Fr Sheil celebrated the annual Mass of Thanksgiving for Benefactors and Donors where all donors were remembered.
For more information on developments at Clongowes and how you can support please contact Antoinette Kelly 045 838215 / antoinettekelly@clongowes.net