[vc_row][vc_column][vc_column_text]The annual Clongowes Science Week kicked off on Monday the 3rd of February with a jam-packed itinerary of fascinating and challenging science-related activities.
On Monday, the Blackrock Castle Observatory set up their Portable Planetarium in the Sports Hall where they gave presentations on one of the most amazing sights in nature – the night sky. This fully immersive experience was a huge hit with boys across all the year groups. That evening, the boys relaxed in the Higher Line Recreation Room, for a science-themed movie night. Movies were shown all week and included; Apollo 13, the Bee Movie, Gravity, Jurassic World and Inside Out.
On Tuesday, the boys and their science teachers took a trip to Dublin Zoo where they learned about biodiversity, extinction, threats to animal populations in addition to visiting the Discovery Centre. One of the highlights of the week was Wednesday's School Science Fair which ran in conjunction with SciFest, Ireland's largest second-level STEM fair programme. The day culminated with the SciFest@Clongowes competition where Elements addressed thought-provoking and pertinent questions such as 'The Effects of Social Media On A Young Person's Health' and 'What Is The Most Dangerous Poison To Humans'. The boys showcased their project posters around the Science Building allowing the judging panel, a mix of teaching staff, parents and the Headmaster Chris Lumb to appreciate in full the creativity and ingenuity on display.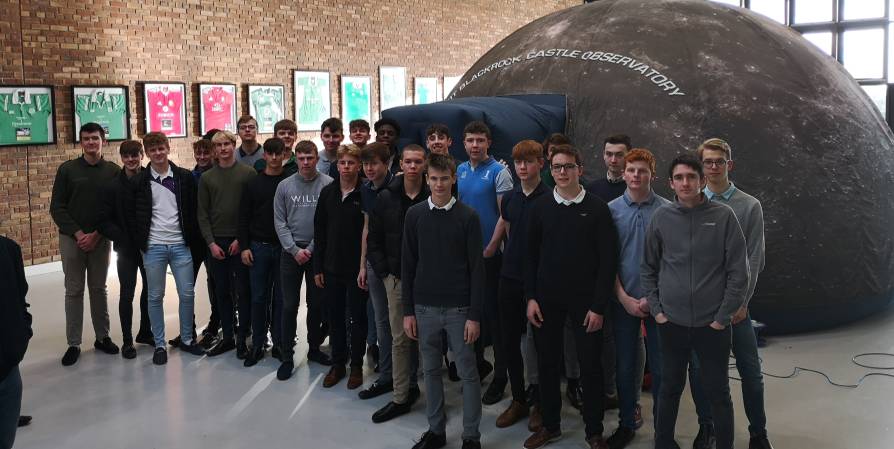 The 2020 Overall Junior Scientist of the Year went to Luke O'Leary (Elements) whose project considered how to turn milk into plastic. Mikey Mina Ronayne (School Captain), Ruairi O' Regan and Barry Dooley (Vice Captains) selected the Captain's Choice Award which was awarded to Aidan O'Donnell for his project "Does Colour Affect Taste?". Eight projects were highly commended and the award ceremony for the overall winners will take place later this week.
On Friday, the highly anticipated Lego-themed 'Bricks4Kidz' workshop took place which never fails to impress, and the Elements group had great fun building a variety of advanced Lego models. The day culminated with the Rudiments Science Quiz where some delicious chocolate prizes were offered to the winners.
Science week was a huge success and many thanks must go to the Science Department who worked tirelessly to ensure the boys could experience this fantastic week of activities which will no doubt further engage the boys in STEM-related areas.[/vc_column_text][/vc_column][/vc_row][vc_row][vc_column][ult_buttons btn_title="See the Gallery for More Images" btn_link="url:http%3A%2F%2Fclongo45.vm002.innermedia.co.uk%2Fdt_gallery%2Fscience-week-2020%2F||target:%20_blank|" btn_align="ubtn-center" btn_title_color="#ffffff" btn_bg_color="#52426a" icon_size="32″ btn_icon_pos="ubtn-sep-icon-at-left"][/vc_column][/vc_row]