Clongowes Wood College 34:Terenure College 14
The Clongowes Senior Cup team had their first outing against Terenure College in the Bank of Ireland, Leinster Senior Schools Cup at Donnybrook on Wednesday. They prevailed with a 20-point victory following a terrific start from Terenure and an impressive finish by Clongowes.
The Clongowes boy's determined faces stood out in a sea of purple and white as they took their positions on the Energia Park pitch. The great tradition of hard-fought games, which exist between these two colleges, was evident from the kick-off. Out-Half, David Wilkinson (Rhetoric) was injured in the warm-up but his replacement, Charlie Reilly (Poetry), did an excellent job of starting the game. Terenure seemed to have Clongowes on the run when they converted in the opening 20 minutes – a slick back combination resulted in a well-worked try and conversion for Terenure to lead seven nil.
This seemed to spur Clongowes into action, some speedy rucking and slick handling saw second row Jack Kearney power over just to the right of the posts and Oisín Devitt (Poetry) added the conversion. Clongowes were now settled into a rhythm, with Tom Mulcair (Rhetoric), Diarmuid Mc Cormack (Rhetoric), and Evan O'Boyle (Rhetoric) starting to make their presence known. The Clongowes front row of Luke Mc Mahon (Rhetoric), Eoghan Cumbers (Rhetoric) and Barry Dooley (Rhetoric) provided a solid platform for the ever roaming Clongowes back row. Captain Calum Dowling (Rhetoric) led by example and scored two individual tries with Devitt adding the conversions (Rhetoric).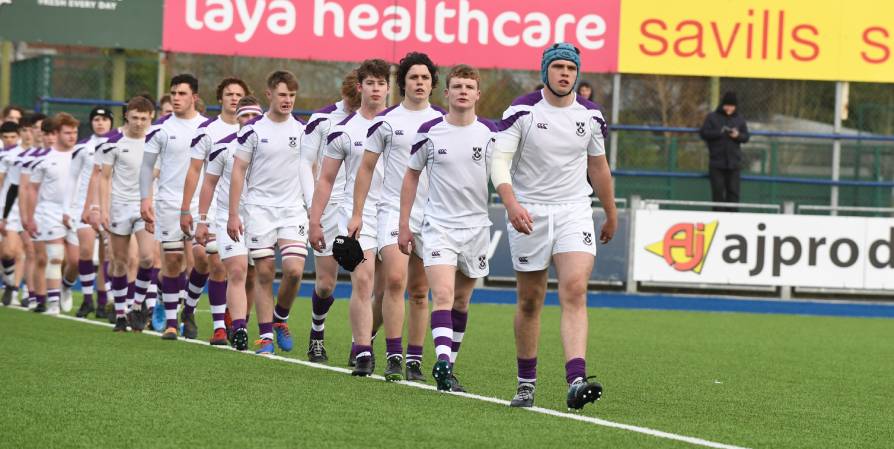 Terenure now changed tactics, and moved to a kicking game, using both wings smartly. They were rewarded with a second try late in the game. Again, Clongowes responded, and some smart passing saw Mulcair, release centre Peter Maher (Rhetoric) for a well-deserved try from the big centre.
In the closing ten minutes, Clongowes brought on replacements all of whom could have started. They slipped into a game plan with ease, the fresh legs were welcomed, and the momentum continued.
Oisín Devitt closed the game out with a well-taken penalty to leave the final score Clongowes 34, Terenure College 14.
Clongowes will take on St Gerard's School following today's draw.
Scorers for Clongowes Wood College SJ: C Dowling 2 tries, J Kearney, P Maher try each, O Devitt 2 pens, 4 cons.
Scorers for Terenure College: B Dignam, J Whelan try, M Lynch 2 cons.