This year's Wellness Day took place on Wednesday the 23rd October opening in the Boys' Chapel with keynote speaker Jack Kavanagh (OC '11), who sustained a life-changing spinal cord injury in 2012 at just 20 years old. Wellness Day involved an eclectic mix of energetic, reflective and relaxing activities including drumming, meditation and walks in nearby Donadea Forest Park. Activities such as Wellness Day have contributed to Clongowes' achievement of the Amber Flag for the promotion of positive mental health for the past two years.
During the day, boys were encouraged to immerse themselves in the many activities to help restore overall balance and wellbeing of the mind, body and soul.
Guest speaker, Jack, set the tone for Wellness Day with his inspirational and courageous account of his accident and subsequent journey to wellbeing. Jack travels the country giving inspirational talks to audiences on the topics of leadership, mindfulness and goal setting, he fearlessly shares his own story in a bid to help his audience understand the power of a positive mental outlook.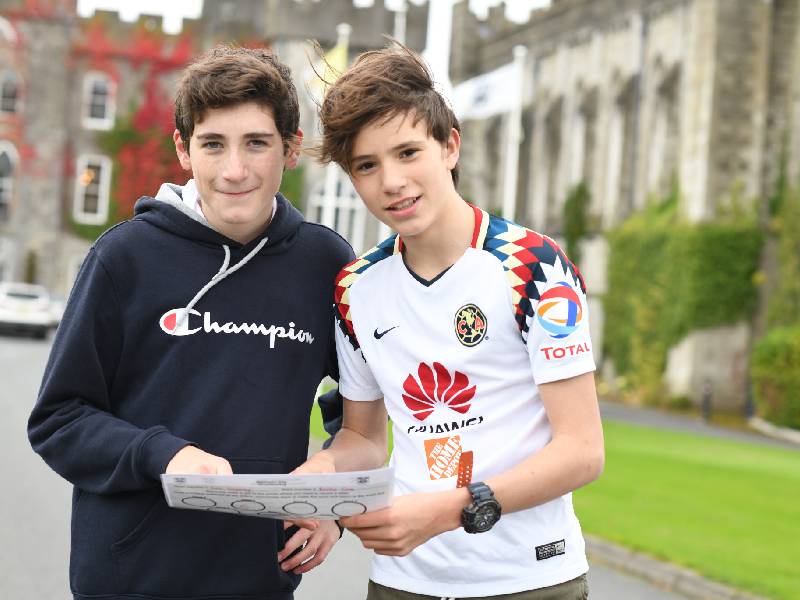 As a past pupil, Jack recounted the time he spent in Clongowes which resonated greatly with the current students who had gathered to hear him speak – he explained, "I have sat there just like you are now, I have dealt with all of the challenges that you all have as you are growing up and discovering who you are". Speaking about his recovery, Jack focused on the three pillars of body, mind and soul. He explained that an important part of his journey was using meditation and mindfulness to quieten his mind. He shared with students that he believes the constant bombardment of images and information we experience in this digital age encourages us to negatively evaluate ourselves and others. Indeed, he said, "it is very easy to compare yourself to others, but the truth is that the only person you should ever want to impress is yourself".
Jack stressed to the boys that: "Each one of us is a masterpiece and born perfect", and his story is, in fact, everyone's story, just written in different words.
He urged the boys to be kind to others and explained that we never know what others are going through and that each one of us is struggling with something that we may not be able to immediately see. Jack spoke about life as "a series of ups and downs", he maintained "it is our job to take on a challenge so that we can learn, grow and develop which should guide us and help us reach our full potential."
There was no doubt that the students and staff who had gathered in the Boys' Chapel were both moved and inspired by Jack's story and the very personal journey that he shared with the Clongowes community. Jack, fearlessly, draws on his own personal experience with adversity in a bid to compel his audience to change their outlook on life for the better.
Jack set an uplifting tone in his address leaving everyone with plenty to quietly reflect on in coming days and weeks.
Following the thought-provoking keynote address, the boys set off to partake in a range of activities such as drumming, meditation, healthy eating demonstrations, orienteering and a forest walk.
The Amber Flag Committee's hard work resulted in what was a wonderful and memorable day for staff and students – the positive effects of which, will undoubtedly be long-lasting for all those involved.
Here is a link to Jack's very inspiring Tedx Talk "Fearless like a child: Overcoming Adversity"