Clongowes Wood College 38: CBC Monkstown 10
A match that had see-sawed for much of the first half and appeared to be heading for a 3-3 score at the interval was effectively decided in the 'championship' minutes either side of half time by two converted tries and two penalties for Clongowes that left 20 points between the teams with 26 minutes remaining on the clock. Monkstown dotted down once in that time while Clongowes score three more tries for a final scoreline of 38-10 and a place in the semi final against sister school Gonzaga College.
CBC had started brightly and their forwards threatened the Clongowes line more than once but were repulsed on each visit before a period of Clongowes pressure gave fly half David Wilkinson a penalty opportunity that he goaled in the 12th minute (3-0). Back came Monkstown only for Joe Carroll's covering tackle to thwart the attack down the left wing and keep the Clongowes line intact.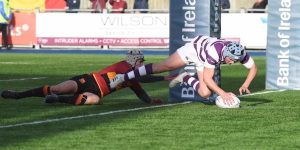 Tom Coghlan led the doughty pack in a spirited defence until an infringement allowed Monkstown to square matters in the 29th minute (3-3). Wilkinson knocked over another penalty to extend the lead (6-3) before smart work from right wing Luke McDermott conjured a try from nothing. A chip and collect found space and the feed to Ross MacGoey and then Coghlan put Gilheany away for a score that had seemed unlikely moments earlier. Wilkinson converted and the scoreboard suddenly bore a different complexion as the half time whistle blew (13-3).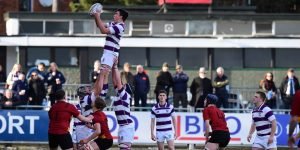 Two minutes into the second half Hugo Phillips darted through a scrambling defence for a try that Wilkinson converted (20-3) before adding another penalty in the 44th minute for a 23-3 lead. Joe Carroll had pushed the margin out to 25 points before a very competitive Monkstown team made their way upfield for a converted try (28-10), but any notion of a comeback from was quelled by further tries from Phillips and McDermott as Clongowes ran out winners by 38 points to 10 and into their eighth semi final in ten years.
Clongowes: J Maher; L McDermott, J Carroll, H Philips, M Galvin; D Wilkinson, R MacGoey; B Dooley, C Dowling, R McMahon, C Doyle, H Lonergan, D McCormack, T Gilheany, T Coghlan (capt). Replacements: F Kiernan, T O'Brien, E Noone, C Duff, L McMahon, P Dowling, H Arkwright, G Dowling.
Semi Final v Gonzaga College: Tuesday, March 5th, Donnybrook: 15.00.