Last week the Clongowes Wood College Science Department hosted our first ever Science Week from Tuesday 29th January to Friday 1st Feb.The week kicked off with Elements (appropriately for a Science Week!), travelling to Dublin Zoo on Tuesday in the company of their Science Teachers. Ms Nolan had prepared a biology themed treasure hunt for the boys in advance of the trip, using the Junior Cycle Science Learning Outcomes as a guide. While at the Zoo, the students learned about biodiversity, extinction, threats to animal populations, wildlife management, all the while visiting the animal enclosures, the new Discovery Centre and Zoorassic Park.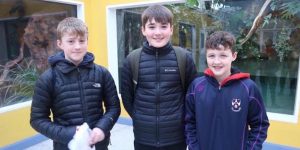 Whilst Elements were hunting in the Zoo, Ms Kearney was in NUI Maynooth with the Rhetoric Chemistry students. Our local university hosts a Leaving Cert practical day for students studying chemistry, which is of huge benefit to the students in preparation for their exams in June. After a busy day out there was an opportunity to relax in the Higher Line Recreation Room as Science themed movie nights were held throughout the week for all students not in study. From 'Jurassic Park', to 'The Theory of Everything' by way of 'The Meg' each evening was hosted by our movie man, Syntax student Daniel Groome.On Thursday, Ms Nolan acted as Quizmaster for the Rudiments Science Quiz. Though a little early, Easter Egg prizes lay in wait for the best science minds among our second years: Ibai Juntilla, Finn McGarry, Garrett McManus and Ben Smyth (below).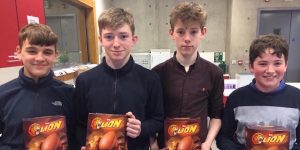 Junior Science Fair
From Wednesday, momentum was gathering for the Second Annual Junior Science Fair, as final touches were added to projects to be presented. This year we collaborated with SciFest@School, which is where is where a second-level school hosts their own in-house SciFest STEM fair. The SAT building was adorned with SciFest balloons and student posters and Dr Quine put in a huge amount of work to ensure that the work of the past five months was displayed to best advantage.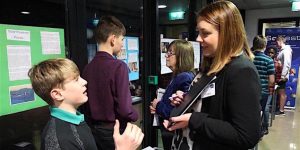 Along with the Science teachers and School Captain and Vice Captains, Scifest Founder Mr Sheila Porter was joined by parent Dr Sumi Dunne and Headmaster Mr Chris Lumb in the judging of 51 STEM projects on Thursday evening. In line with best practice, each students was interviewed as well as presenting their written work and poster a number of times to a number of judges.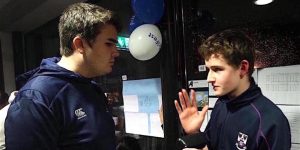 From NFL draft statistics to air pollution in the study and recreational areas in Clongowes by way of links between language and intelligence, if size matters in rugby, what affects the bounce of a tennis ball, marine pollution, Downs Syndrome, whether music affects taste perception – the questions asked were both novel and creative and the judges were amazed with the work of our young Elements' boys.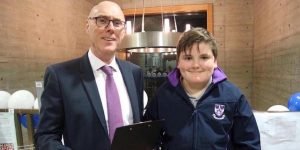 The 2019 Overall Junior Scientist of the Year went to Aodhán Mc Guinness and the Captain's Choice Award was won by Rian O'Kelly. The second award was chosen by our School Captain Hugo O'Donnell with the support of his vice captains Fred Sargaison and Charlie Kelly representing the Student Voice in prize giving. Two runners up – Jack Shannon and Matthew Kelly – were also awarded trophies and ten projects were rosette commended. The award winners will be brought to other Science Fairs: SciFest@College and the BT Young Scientist.
The full list of award winners is here and their projects may be viewed here.