Clongowes Wood College 20: Wesley College 7
The Clongowes Senior Cup Team started their latest campaign at Donnybrook yesterday in a tough encounter with Wesley College and a match that was in doubt for much of its length. Two fine defensive performances ensured that there were never more than eight points between the teams until scrumhalf Ross MacGoey (above) dotted down in the 49th minute to extend the lead following a snappy passing movement. A fine conversion from wide on the left by his half back partner, David Wilkinson seemed to leave clear water between the teams with a scant 20 minutes remaining (15-0).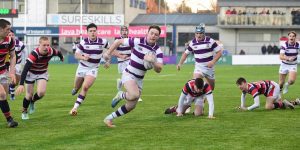 Nothing daunted, the team from south Dublin, who had put it up to Clongowes on many occasions throughout the afternoon, came again and were rewarded with a converted try of their own to bring the margin back to eight with more than 10 minutes remaining. That lead might well have sufficed but full back John Maher (above) – playing his fourth consecutive season of cup rugby – decided that some insurance points might be handy as he picked up a loose ball and pinned his ears back down the left hand touchline for the final score of the game (20-7).
John had already scored a try in the 'championship minutes' towards the end of the first half, following good work by lock Hugh Lonergan, to add to David Wilkinson's eighth minute penalty and give Clongowes a half time lead of 8-0. It had been a half of little forward movement as each side's attack tested the other's defence and were rebuffed time and again.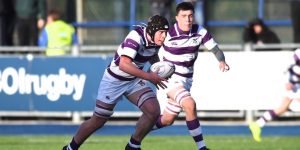 Wesley started the second period with renewed vigour and their determination that they should cross the line (at – appropriately – the Wesley end of the ground) was exceeded only by Clongowes' resolve that they would not pass. Time and again they were turned away on the line until eventually the siege was lifted and Clongowes made their way back up the pitch to pave the way for MacGoey's try.
As ever with Clongowes' teams it was a 21-man performance, with the groundwork for the deciding scores laid elsewhere on the pitch in both tight and loose play. The scrum was solid and the lineout reliable (including a few steals on the opposition ball) in a workmanlike performance, from which they will benefit as they move into the quarterfinal of the competition for the 14th year running.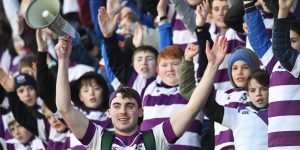 Clongowes: J Maher; L McDermott, J Carroll, F Kiernan, M Galvin; D Wilkinson, R MacGoey; B Dooley, E Noone, R McMahon; C Doyle, H Lonergan; D McCormack, T Gilheany, T Coghlan (Captain). Replacements: G Dowling, T O'Brien, H Phillips, T Power, G Dowling, C Duff.