Book Character Dress-up Day 
Our second Inter-House Book Character Dress-up Day created some cheer on a wet dreary Wednesday, November 7th. Students assembled in mutual amusement as characters from the ten books selected by the House Leaders before mid-term:
| | |
| --- | --- |
| Diary of a Wimpy Kid | Ross O'Carroll-Kelly |
| Where's Wally? | Cherub |
| Of Mice and Men | The Boy in the Striped Pyjamas |
| Charlie and the Chocolate Factory | Superman |
| Harry Potter | Jesus |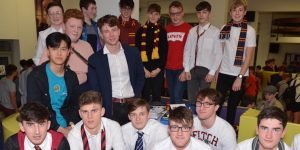 A competitive angle was introduced with Houses earning points per student participating. This resulted in much creativity, some well thought out and planned in advance while others more desperate but willing! It was this willingness that created great buzz and energy about the school on a cold November day and such last minute creativity may be where most fun lies – especially when complemented with a cheeky persuasion that their costume is representative of their character – such as sellotape as halo, a white sheet strategically wrapped and wire coat hangers as wings for a student who decided to be the Cherub book logo rather than its main character, James Adams! (No names, no pack drill…)
Adding to the fun were the members of staff who got involved and walked the gauntlet to classrooms (and even meetings) as Charles O'Carroll-Kelly (Mr Wallace), Jay Gatsby (Mr O'Hara), The Queen of Hearts (Ms Heslin), Willy Wonka (Ms Cribben), Bill Sykes (Mr McGovern), a witch from Macbeth (Ms Goulding), Nancy Drew (Ms Quine), Katniss Everdeen (Ms Nichol), Charlotte Blackwood (Ms Nolan) and Charlotte's Web (Ms Frampton), while Fr Sheil, the '2nd decentist Rector in Clongowes' (Joyce fans) channeled for his illustrious predecessor, Fr. John Conmee, S.J. (A Portrait of the Rector as a Young Man, perhaps…? Ed)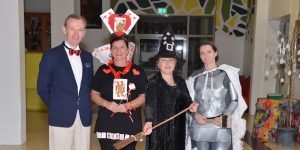 School librarian, Jane O'Loughlin, addressed the assembled students as Aunt Vivian Hardwick (Knights of the Borrowed Dark by Dave Rudden). They were ordered (in character!) to return at break time for the competitive aspect – the count of participants per House. Staff volunteers were assigned Houses to count and note their Best Dressed representative. Not as straightforward a task as one might think, as last minute students did their utmost to convince that they were in costume!
Arrupe were again declared the winners this year, reprising last year's winning character from Diary of a Wimpy Kid ! Strategic on the part of the House Leader perhaps, why change a winning formula that is simple: white t-shirt, black shorts/trousers, black backpack? School Vice-captains, Fred Sargaison and Charlie Kelly, were tasked with selecting overall Best Dressed Student (won impressively by Rob Jones as Jesus) and Best Dressed Staff Member (Ms Heslin as The Queen of Hearts). Suffice to say that there was no last minute creative scramble with these costumes…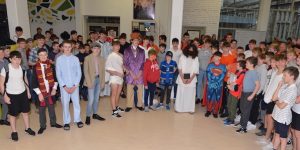 Truly, everyone who participated was a winner as their sense of fun and energy created a great atmosphere for the whole school. Many thanks to parents, staff and students who supported this book event, one that combines creativity with discussion around books and characters, while peppered with some competitive fun and a big thank you to Dave Nelson for taking so many fine photos.