Junior Cycle Science Fair
Are animals affected by coloured light?
Do scrum caps actually work?
Butter or Olive Oil?
Does packaging affect your taste perception?
The Magnus effect on soccer balls?
Is there a real difference between sport played on Artificial v Real Grass?
Is advanced technology having an effect on society?
Is there a science to online shopping?
Are flying cars a possibility?
These are some of the question being asked by our Rudiments and Elements students at our Inaugural Clongowes Wood College Junior Science Fair held on Monday evening 16th April.
A stroll through the Science and Art building can answer many a life's challenge. Prior to Christmas, our Lower line students were tasked to take on some individual scientific research and to present the work at a Junior Fair. As the work was presented, as science teachers, we were blown away by the standard of much of the work produced. Each student was required to produce a report on their work done and a poster, then to orally present to judges on Monday evening.
The format of the competition is in line with International practice from school science fairs to Symposia which bring together leading experts in the area of STEM. The new Junior Cycle requires science students to develop the skills of 'The Scientific Method' and this represents the first opportunity to show these skills in advance of the Rudiments Classroom Based Assessment which begins next week.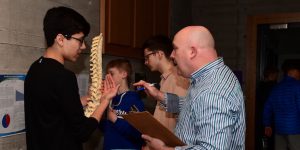 Overall Junior Scientist of the Year
Joshua Dunne (above): The effect of heavy backpacks on teenage spines
Elements Scientists of the Year (joint winners)
Luke Boylan: When a dog licks your face, is it harmful?
Brian McCarthy: Do we really need sports drinks?
Rudiments Scientist of the Year.
George McLoughlin: Autism: what's normal??
School Captains Award(Recognizing our 'student voice' in choosing a winner).
Harry McDermott: Infuenza; a deadly virus.
Commendations
A further 20 projects were commended for their excellent standard.
Our students became the teachers on Monday evening, in one giant flipped classroom. This just might be the start of a scientific adventure!
Ms Yvonne Nolan