DUE TO THE ADVERSE WEATHER CONDITIONS, IT HAS BEEN DECIDED TO CANCEL THE OFFICIAL OPENING OF THE POOL THIS COMING SATURDAY (MARCH 3RD). THE HEADMASTER WILL RESCHEDULE ANOTHER DATE IN THE NEAR FUTURE.
New Swimming Pool to be officially opened by Tánaiste, Simon Coveney
The long awaited new 25 metre, five-lane swimming pool in Clongowes quietly entered service before Christmas and has been noisily much in demand since then with – it seems – the whole school (whether wet behind the ears or not) eager to dip more than their toes in the water. This stunning new addition to the sports facilities in Clongowes will be officially opened by Simon Coveney (OC 1990), Tánaiste and Minister of Foreign Affairs and Trade, in the near future. The event will be accompanied by a gala swimming event and parents are invited. RSVP to reception@clongowes.net or 045 868202.
When the predecessor to the new pool (the 'baths' of fond memory – above) was opened in 1887 it was part of an ambitious building programme that included the Big Study and the old Refectory (now the James Joyce Library). In like manner, this pool is the latest addition to a portfolio of exciting new structures that include the Science, Art and Technology Building and the 1,000m2 Sports Hall and Gymnasium. The new facility is located adjacent to the Vincent Murray Park, with its artificial playing surface, and the Sports Hall, which together comprise the hub of sporting activity within the college.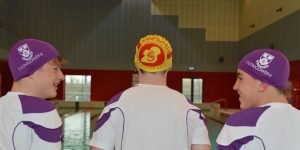 Before Christmas Syntax students began to use the new pool to take Lifesaving Lessons for a Pool Life Guard Course over the course of Transition Year and the provision for new water sports activities will complement the many outdoor facilities that Clongowes students already enjoy including grass and all weather pitches where rugby, soccer, gaelic games and cricket are played, as well as a Golfing Union of Ireland approved nine hole golf course.
The amalgamation of Clongowes and Tullabeg in 1886 brought the new college into the modern education system that had commenced seven years earlier with the introduction of the Intermediate Education Examination (now the Leaving Cert). The school has gone on from then to produce generations of successful students as well as many successful sportsmen. The addition of the swimming pool to the existing suite of sports facilities will continue to ensure the essential combination of healthy minds and healthy bodies as we continue through our third century.
Declan O'Keeffe, Head of Communications