On Tuesday 8th December the school gathered in prayer to celebrate the Feast of the Immaculate Conception.
Fr Shane Daly SJ celebrated Mass at 10.45 a.m. from the Sports Hall where Syntax students were present. Other year groups gathered in five other locations throughout the school to take part in the liturgy as it was streamed live. Parents and OCs also joined the school community via the live streaming service. The wonderful voices of the Schola Cantorum filled the Sports Hall under the direction of Mr Cyril Murphy, Director of Liturgy.
In his sermon, Fr Daly spoke of how, on the Feast of the Immaculate Conception, we recognise that God chose to save us by sending his son to live amongst us. Fr Daly reminded us that we honour Our Lady on this special day because in many ways she is a model for all of us. Our Lady was invited to participate in God's plan for salvation – she had a role to play and freely chose to become part of God's plan. We all have different roles to play and God is inviting us to play our role. It is a question of listening to discern what God might be calling us to do and to trust God's plan for each of us and, in the words of the Gospel, nothing is impossible to God (Luke 1:37)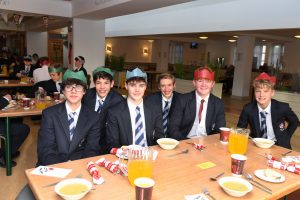 Our Mass was followed by the traditional Christmas lunch in the Refectory. This year's event was different from previous due to covid protocols however the levels of excitement and anticipation were not diminished! The Refectory staff prepared, as always, a delicious meal – three-courses, with a starter of leek and potato soup, followed by a traditional turkey and ham dinner with all the trimmings including delicious Ballymaloe Cranberry Sauce and homemade gravy. The final course was a dessert of profiteroles and locally produced ice-cream.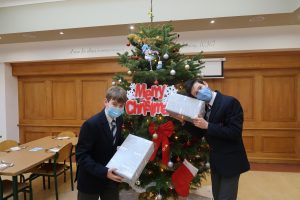 The boys very kindly placed a gift for every staff member under the big Christmas tree in the Refectory as a token of their appreciation for the support of all of the staff in the school this year. As an additional treat for the boys in the evening, mince pies and cream were served in the Refectory. We would like to say a huge thank you to all the staff who made the day possible and to the boys who bring their usual levels of cheer and enjoyment to all occasions. As the term is coming to an end next week, it is safe to say that the Christmas spirit is alive and well in Clongowes!