Our annual 'Wellness Day' took place on Wednesday 25th November.
The Amber Flag Committee made up of staff and students worked very hard behind the scenes to make this an enjoyable event for all the Clongowes community.
The Pieta Amber Flag Initiative recognises the individual efforts of primary and secondary schools, youth reach, third level institutions, community groups, clubs and companies to create healthy, inclusive environments that support mental well-being.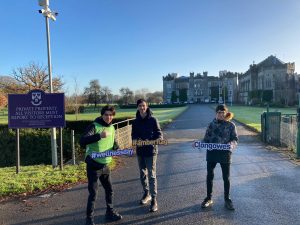 It was a different type of 'Wellness Day' in comparison to previous years due to COVID restrictions.
The Committee opted for our own 'Darkness into Light' 5K walk without rising in the early hours (the boys were happy to know!) and a video presentation from Pieta House.
It had been the committee's hope to invite Pieta representatives into the school to give talks and partake in the walk but due to restrictions, this was not possible. However, Pieta kindly put together five videos to be shown to the boys in class.
In keeping with the Amber Flag principles, we must achieve two goals each year to retain our 'Amber Flag' status.
This year we amalgamated our two goals within the same day:
(1) Whole school wellness event: 5k walk and Pieta House Mental Health Awareness talks.
(2) Raising money for Pieta House through donations and the sale of Darkness into Light snoods.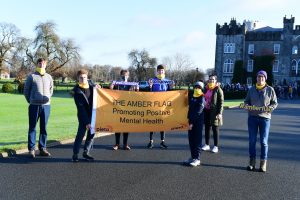 The day was a big success and we expect to retain our Amber Flag for another year.
A special thanks go to all who helped make the day possible but especially:
The Amber Flag Committee & Mrs Dolan, Mr McGovern & Syntax Students (in particular James Mulkerns alongside Mr Dawson) for taking the lead on organising the routes for the walk. Teachers and staff who participated in the walk and led the 'wellness' lessons. Maintenance for preparing and having the walking route safe for us all. Ms Cooke & her team for being so accommodating with the menus for the day. And finally, Mr Nelson for capturing wonderful pictures of the day.