It was an enjoyable, albeit wet and windy, autumnal afternoon for our Annual Triangle Race which took place on Sunday, October 15th. While none of the remarkable Jack O'Leary's (OC'16) records were threatened, there were some commendable times from the boys. The 7.26 posted by overall winner Richard White (Rhetoric) was enough to see him pip the 7.30 of Dermot Collins (Grammar) – Dermot three years his junior will surely be a hot favourite for next year's race!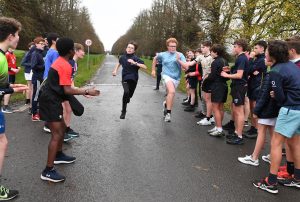 The origin story surrounding the 'Triangle Race', whilst not lost to the annals of time does have an air of uncertainty surrounding it. We can surmise that as long as boys have been running around Clongowes they have probably run and raced the route.
In regards to the modern event, Fr Bruce Bradley, in The Clongownian, 1994, notes: 'an idea mooted by Fr Liam O'Connell during his headmastership was brought to fruition [this year] by Mr Brian O'Keeffe: races around the "triangle" of front and back avenues for all-comers within each line.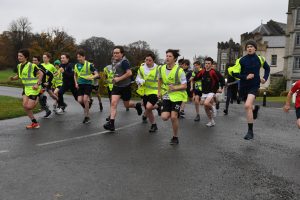 RESULTS
Higher Line (Record Jack O'Leary 2015 – 06.38.40)
1st Richard White 7.26
2nd Cian Hickey 7.28
3rd Nikolai Rager 7.50
Lower Line (Record Jack O'Leary 2013 – 6.54.00)
1st Dermot Collins 7.30
2nd Ned Williams 7.32
3rd James Keenan 7.35
Third Line (Record Jack O'Leary 2012 – 7.17.40)
1st Luke O'Leary 7.55
2nd Martin Rouilleault 8.10
3rd Josh Williamson 8.11
Best Time Overall: Richard White (7.26)
A big Congratulations goes to Richard White (Rhetoric) who takes home the Triangle Cup and to the winners of each year group, who received individual awards. Thomas Walsh (Elements), Luke O' Leary (Rudiments) , Dermot Collins (Grammar), James Keenan (Syntax) and Cian Hickey (Poetry)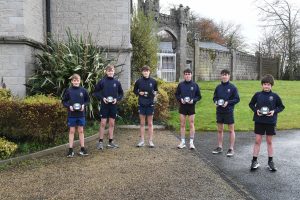 Thank you to our Prefects for coordinating the event and to Mr Nelson who captured some great photos on the day.