In the lead-in to our annual mid-term break, Clongowes hosted our two annual Kairos Retreats simultaneously. The retreats had been initially scheduled to happen in the beautiful northern surroundings of Dromantine Retreat & Conference Centre, Newry, Co. Down but due to COVID restrictions our plans fell through. Fortunately for us, we were able to move to an alternative plan and utilize the wonderful surroundings of our own home territory. Some sixty-plus Poetry students partook in the Kairos experience with Rhetoric students and staff members facilitating and partaking. Our main gathering points for both groups on the two Kairos Retreats were the College Chapel and People's Church- two beautiful iconic places of worship for everyone here at Clongowes and afar.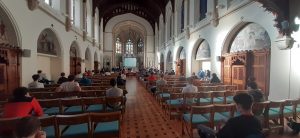 The opening line to the retreat was:
"God is still writing your story.
Stop trying to steal the pen.
Trust the author!"
The Kairos Retreat has always been suggested as the 'jewel' of the Jesuit schools right across the globe and the journey of the most recent retreatants was found to be no different. Students and parents have recently cited it as 'being the best experience of their schooling to date', 'profound', 'moving', 'awakening', 'deeply affected' and many more beautiful attributes. Many thanks to all who worked together to make the retreat possible in these unforeseen times, where it is difficult for many annual activities to run as normal. Our prayer and hope for the newly refreshed retreatants is to continue to live in the spirit of Christ's love experienced on the retreat so that they can begin to make it a daily reality for themselves and everyone that they meet.