Pictured from left to right: Joseph O'Sullivan ('85), Marcus Keane ('89), Dave Lane ('85), Conor Halpenny ('83),Ken Barry ('86), Adam Mac Nulty ('88),Ambrose O'Sullivan ('78), Jonathan White ('86), Hugo Mac Nulty ('99), Colin Rafferty ('85), Gary McCarthy ('87), Johnnie Mullan ('93), Rob Downes ('96), Frank Kelly ('85), Stephen FitzPatrick ('93), James Keane ('99), Maeliosa Power ('89), Niall McCarthy ('89), Dan Rock ('88), Willie White ('88).
Out of the adversity that COVID-19 caused when we were first presented with the illness rose a band of Old Clongownian amateur swimmers, the aptly named 'Gollymocky Whalers'.
The group, who have now expanded to 23 members, began in May with a much humbler enrollment. The group's founding fathers Adam Mac Nulty (OC'88) & Jonathan White (OC'86) explain that it was happenstance that originally got the idea off the ground.
Jonathan explained: "Adam and I live around the corner from each other. We were both out exercising one evening during the lockdown and we bumped each other. I mentioned I had been swimming every day to keep sane and break the monotony of the lockdown."
Adam added: "That encounter got me thinking. At the end of May, I sent a WhatsApp to several OCs of our vintage who live in the area to see if they were interested in going for an early morning weekday swim."
The initial response was slow but soon they found their super-recruiter, Maeliosa "Wewa" Power (OC'89):
"The "Early Morning Dippers", as we were first known, took our first swim on June 1st. Adam and I were joined by Maeliosa "Wewa" Power (OC89). Wewa took some persuading as the water is still pretty cold in June! He was an outstanding recruit as he went on a mission to build up the group. We take a photo every morning (pre-Level 3) as a log – and to confirm attendance. Peer group pressure means you're afraid to miss a morning or else there will be an inquisition! Within two weeks our crew had grown to 10. We now have 23 participants ranging from the elder lemon, Ambrose O'Sullivan (OC'78), to James Keane and Hugo Mac Nulty of the Class of '99."
To those of you who have attended the school will know that the Gollymocky River holds a special place in the hearts of all students, present and past. Adam goes on to explain where the inspiration for the club's name came from:
"No doubt you are familiar with "The Gollymocky Whale" written by F. John McLaughlin and illustrated by Gordon D'Arcy (OC'98). We wanted something nautical on the one hand, but we also wanted to pay homage to Clongowes, so we thought it was an inspired choice!"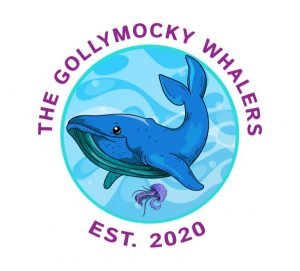 The Gollymocky Whalers have been a huge success and it shows us the importance of camaraderie and how we all yearn for friendship during difficult times. It also pays testament to the bonds formed within Clongowes, not just within year groups but throughout the College's family. Jonathan and Adam explain why they believe the group has proved so popular:
AMN: I think the lockdown had a very big impact on people's physical and mental health. I consider the Gollymocky Whalers as a kind of "Men's Shed". Many of us are working from home and some of us have had our hours curtailed, so we don't get to interact with too many people during the working day. With the gyms shuttered during the lockdown, it was more difficult to take exercise, while socialising has been curbed due to the pubs and restaurants closing. I think a lot of us were yearning for some normality, friendship and banter. If we're being honest with ourselves, we were probably feeling a little isolated and in need of company. Even though it's only a brief swim, it's a fantastic start to the day. You feel a sense of achievement, you get out of the house, and you have a fairly juvenile level of social interaction! There's no room for egos in the water. It's all good for the soul!
JW: I'm reminded of one of Fr. Mocky Sheil's letters that he sent in June when he talked about the special bond between OCs – young or old – no matter where they go. I think there is a lot to this. There has been great mixing amongst the different year groups and new friendships have been made as the artificial barriers between the years were broken down. We were joined by some younger OCs during the summer. We had guys who left in 2016 come for a swim, while Will Connors made a guest appearance. We're working on Fergus McFadden – he's just moved into the neighbourhood! We're always looking for new recruits and welcome all OCs, young and old (Ambrose is still trying to find someone older than him!).
With the evenings drawing longer and the last embers of summer warmth slowly fading away do the club envisage a big turn out during our cold Irish winters?:
AMN: We're going to try to keep going for as long as possible into the winter. We may have to move to a later start or perhaps switch to a lunchtime swim. We also meet up at the drop of a hat if someone decides to go for a weekend swim. The temperature has dropped to just under 14 degrees from 16.5 in August. Hopefully, it won't dip too far into single figures during winter!
For any OCs who would be interested in joining the group and braving the waters of a winters Irish Sea please contact the Gollymocky Whalers: adammacnulty@gmail.com