[vc_row][vc_column][vc_column_text]
In recent months, the College has been pleased to welcome a rather uncommon visitor – a Peregrine Falcon. The Peregrine has been making a steady comeback in Ireland following a rapid decline in the 1960s due to pesticide poisoning. As a result, Peregrine populations are still recovering due to sustained conservation efforts. Mr Barry Nolan, Managing Director of Wildlife Management and Mr Neil Bourke, from BirdWatch Ireland, have gone to great lengths to ensure that the Falcon remains at the College during the breeding season which runs from February to late April. They have made regular visits to the College to survey the bird's habits. In late January, they co-ordinated the installation of a nesting box on the roof of the 1929 building.
Mr Neil Bourke shared some recent images of the falcon visiting the nesting box which you can find at the Gallery button below.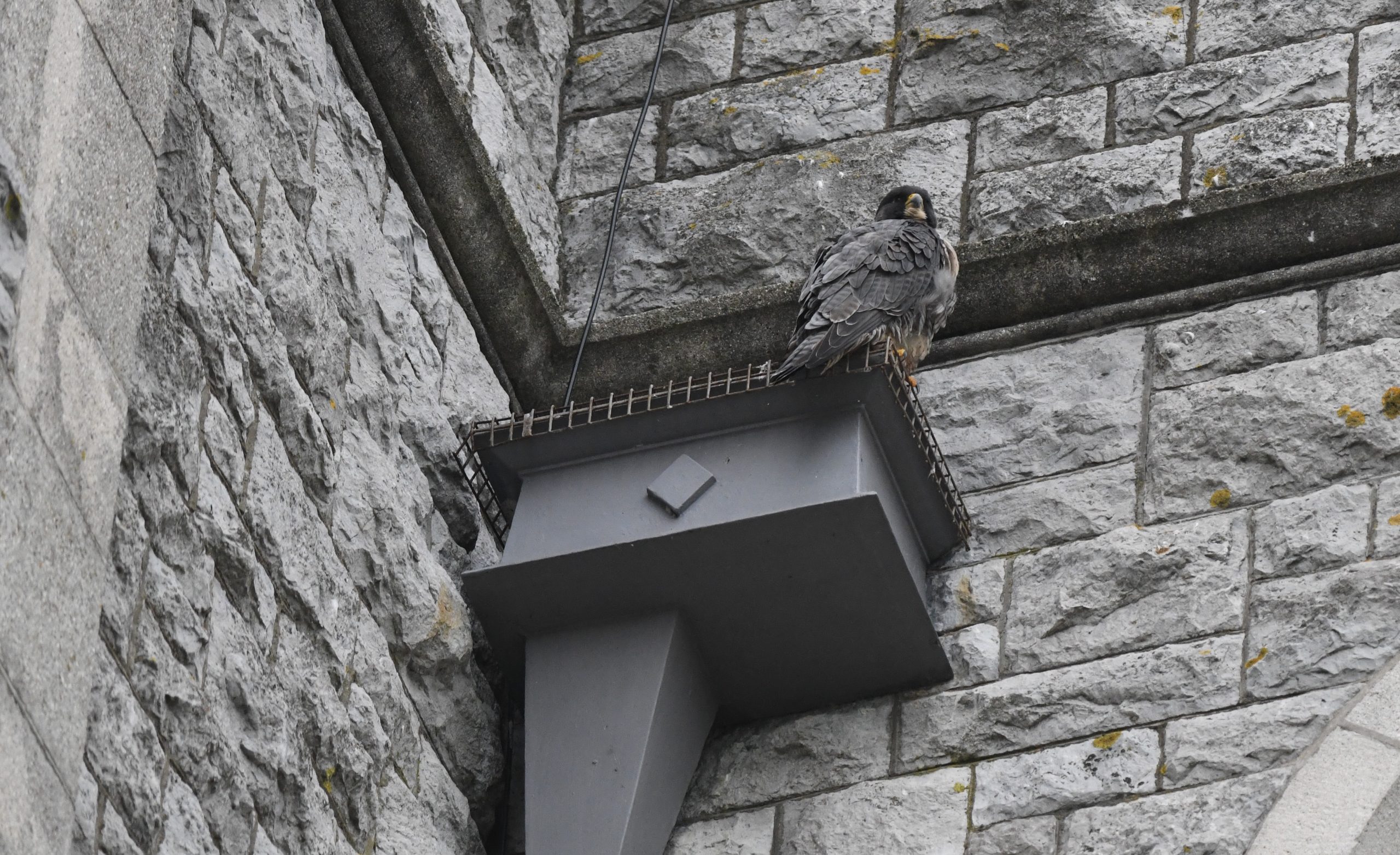 There have been more frequent sightings of the Peregrine since the box was erected so their efforts seem to have been successful. Peregrines are a bird of prey and tend to reside in high places, such as on coastal cliffs, and the College is the perfect location for both breeding and hunting purposes. In the image above, the rather impressive looking falcon can be seen perched atop its usual lunch spot where it regularly dines on such delicacies as small birds and mice.
Many thanks to Mr Nolan and Mr Bourke whose conservation efforts are helping to protect this magnificent species. We are looking forward to seeing how the story unfolds for our Peregrine and to the possibility of future generations of falcons visiting Clongowes.
[/vc_column_text][/vc_column][/vc_row][vc_row][vc_column][ult_buttons btn_title="See the Gallery for more images" btn_link="url:http%3A%2F%2Fclongo45.vm002.innermedia.co.uk%2Fdt_gallery%2Fperegrine-falcon%2F||target:%20_blank|" btn_align="ubtn-center" btn_title_color="#ffffff" btn_bg_color="#52426a" icon_size="32″ btn_icon_pos="ubtn-sep-icon-at-left"][/vc_column][/vc_row]