[vc_row][vc_column][vc_column_text]
Clongowes Wood College 55: St Gerard's School 24
The Clongowes Senior Cup Team (SCT) have secured their place in the Leinster Schools Senior Cup semi-finals after yesterday's win over St Gerard's at Energia Park, Donnybrook.
The SCT won the first round of the Leinster cup on the same pitch just over a week ago and this game got off to a positive start for the boys in purple and white as Oisin Devitt (Poetry) got the first 3 points on the board thanks to a penalty in the opening minutes. Michael Spillane (Poetry) seized the opportunity to score the opening try assisted in no small part by Rory Morrin (Poetry), which Devitt deftly converted (10-0). St Gerard's fired back in the 12th minute with a try leaving them with a deficit of five points.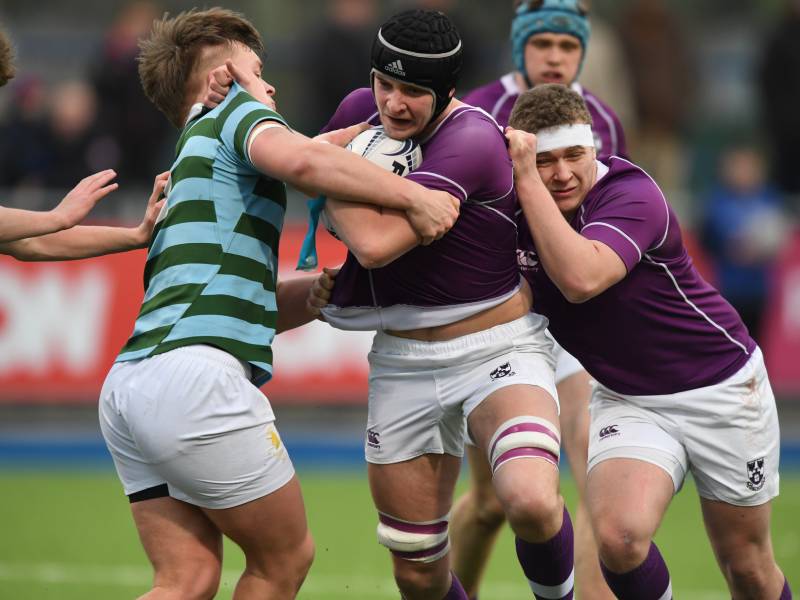 The Clongowes fifteen drove on regardless with hooker, Eoghan Cumbers (Rhetoric) adding the second try from close range, complemented by another conversion by Devitt leaving Clongowes in the lead in the 16th minute (17-5). Diarmuid McCormack (Rhetoric), and prop Luke McMahon (Rhetoric), pushed through the opposition's defence with McCormack grounding a third try which was once again converted by Devitt (24-5). St Gerard's fought back with a scoring blitz inching them closer to a level score at half-time (24-17). The Bray school were hot off the mark in the opening minutes of the second half closing the gap with a converted try making it all square in the 40th minute (24-24).
Replacement, Harry O'Neill (Poetry) and Evan O'Boyle (Rhetoric) made their mark on the game when they landed two tries in quick succession successfully converted by Devitt widening the gap between the two teams to 38-24. Out-half David Wilkinson (Rhetoric) landed a further try in the corner stretching the lead to 21 points after the conversion. Sean Sexton (Rhetoric) and Jack Kearney (Rhetoric) added two further tries in the closing minutes bringing the match to a close with Clongowes 31 points ahead (55-24).
Leinster's Will Connors (OC'15) and Rowan Osborne (0C'15), appeared pitchside to assist with the semi-final draw which sees Clongowes meet Castleknock College at the same venue on Monday the 2nd of March at 3pm.
Well done to the Senior Cup Team and the coaching staff, and our thanks of course to St Gerard's for a thrilling game.
Scorers for Clongowes Wood College SJ: M Spillane, E Cumbers, D McCormack, H O'Neill, E O'Boyle, D Wilkinson, S Sexton, J Kearney try each, Devitt pen, six cons.
Scorers for St Gerard's: C Kenny two tries, B Glass, F Happonen try each, P Burke two cons.
[/vc_column_text][/vc_column][/vc_row][vc_row][vc_column][/vc_column][/vc_row][vc_row][vc_column][ult_buttons btn_title="See the Gallery for More Images" btn_link="url:http%3A%2F%2Fclongo45.vm002.innermedia.co.uk%2Fdt_gallery%2Fsct-quarter-final-win%2F||target:%20_blank|" btn_align="ubtn-center" btn_title_color="#ffffff" btn_bg_color="#52426a" icon_size="32″ btn_icon_pos="ubtn-sep-icon-at-left"][/vc_column][/vc_row]