A Memorial Mass for Fr Philip Fogarty SJ took place on Sunday, it was altogether fitting to have this during the week of prayer for Christian Unity.
The entire Clongowes community gathered for our weekly Eucharist and were joined by past pupils, Jesuits and friends of the college to remember the work done by Philip. To see the numerous past pupils flooding through the doors before the liturgy had even begun was testament enough to "Phili" (as he was affectionately known). Philip's sister and many members of the McKeagney family were present along with his great friend Sr Catherine Higgins, who had travelled from the States to be with us for this memorial mass, not to mention the many former teachers and staff who attended – this important occasion resonated with the affection and esteem in which Philip was held. Fr Rct Sheil SJ gave a moving account of his many shared years with Philip, he recalled Philip's ground-breaking re-imagining of Clongowes and its ethos as a Jesuit boarding school. The Schola sang the Requiem aeternam introit and the Pie Jesu (Andrew Lloyd Webber's Requiem for his late father) and it all felt like a homecoming Requiem Mass for our former headmaster – It was a very moving liturgy. Family members laid a beautifully framed portrait of Philip before the altar which was later presented to his sister Oonagh. The pods of conversation evident and the reluctance of people to leave the Sports Hall after the mass was over was striking in its manifestation of the legacy of goodwill which he left behind.
Below, is a special tribute to Philip in the form of a short video montage – this was shown as a post Communion reflection at the Memorial Mass.
One of Philip's lasting legacies, among many, was his desire for Clongowes to be linked in friendship with Portora Royal School, Enniskillen. And so, some 40 years later, strong bonds exist and Clongowes was particularly happy to welcome Ms Janet Goodall and family, long-time friends of Clongowes and Enniskillen. Further witness to Christian Unity was given by the presence of our neighbours and friends from The King's Hospital who joined us for our celebration. Our thanks go to Mr Mark Ronan, Headmaster of King's Hospital, his wife Fiona, Mr John Aiken, Deputy Head, Ms Jenny Baron as well the pupils who joined us for our Eucharist. The presence of Rev. Peter Campion is a concrete expression of the unity among all Christian Churches.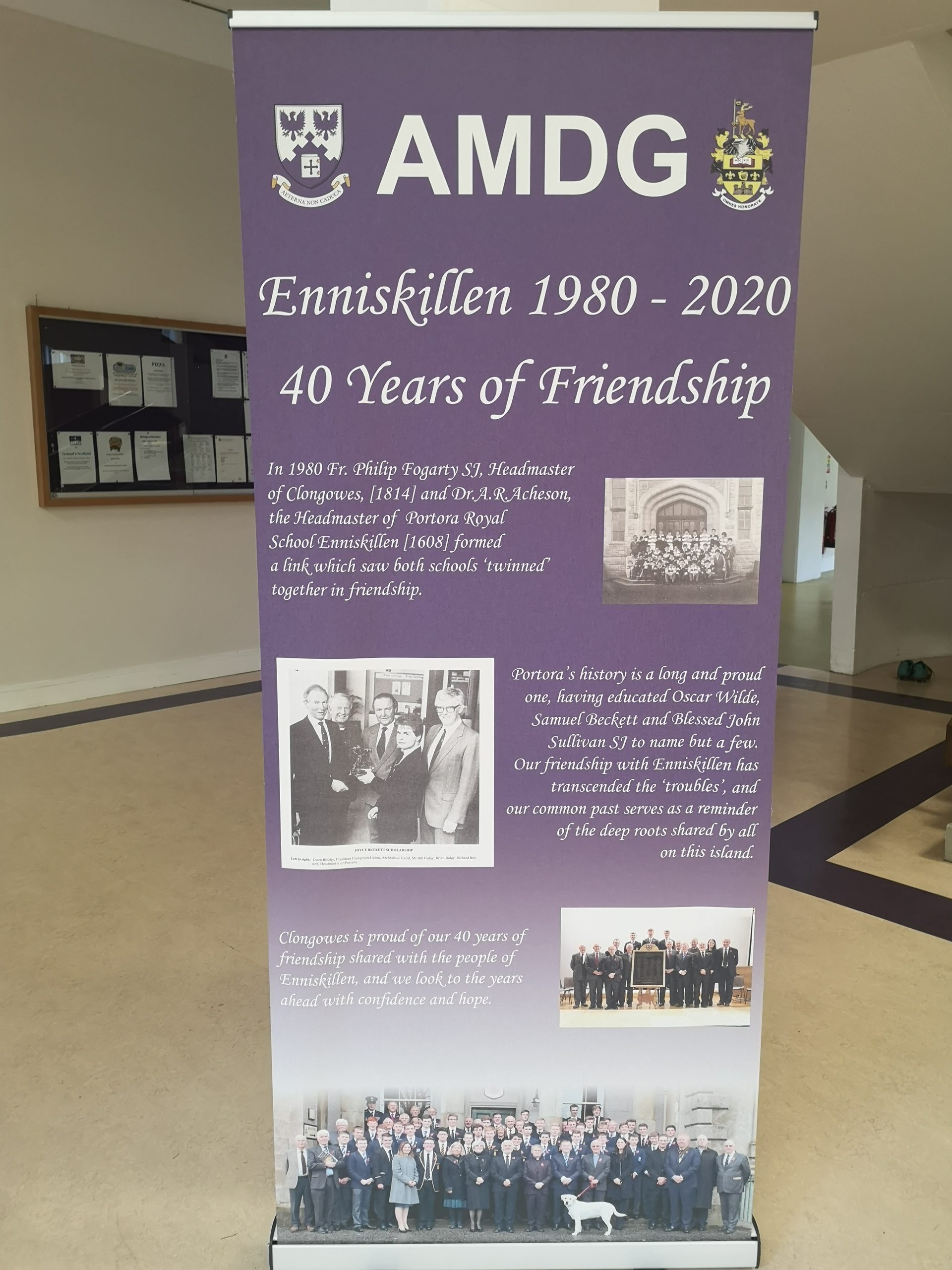 Church Unity week is marked by our special relationship with The King's Hospital, and our return visit to their Evening Communion Service further serves as a real expression of unity between both our schools and more importantly the faith that unites us. It is a living witness to the desire for greater communion.
We thank the entire King's Hospital community for their warmth of welcome and friendship, not just for this week, but throughout the year. Our relationship goes far beyond any differences.
Fr. Philip Fogarty must have looked at Sunday's gathering with a deep sense of happiness and contentment. Our common Christian identity unites us in Service, Prayer and Worship. Ut Unum Sint.