Pictured L – R: Dr Michael Boland Jr and Wife, Mrs Susan Boland – wife of Dr Michael Boland Sr, Fr Michael Sheil SJ
On 12th September 2019, the Archive Office launched the supplement to our previous publication "Clongownians of Distinction – a Guide to the Serpentine Collection", by Dr Harman Murtagh OC62.
We had a very pleasant evening in the Castle with the families of those to be honoured. The event was hosted by the Rector, Fr Michael Sheil SJ, and the Headmaster, Mr Chris Lumb.
We were delighted to welcome The Honourable Mr Nial Fennelly, former Judge of the Supreme Court, along with his wife Mrs Meadhb Áine Fennelly. Unfortunately, Dr Michael Boland was unable to attend due to ill health, but we were pleased that his wife Mrs Susan Boland and their family could join us.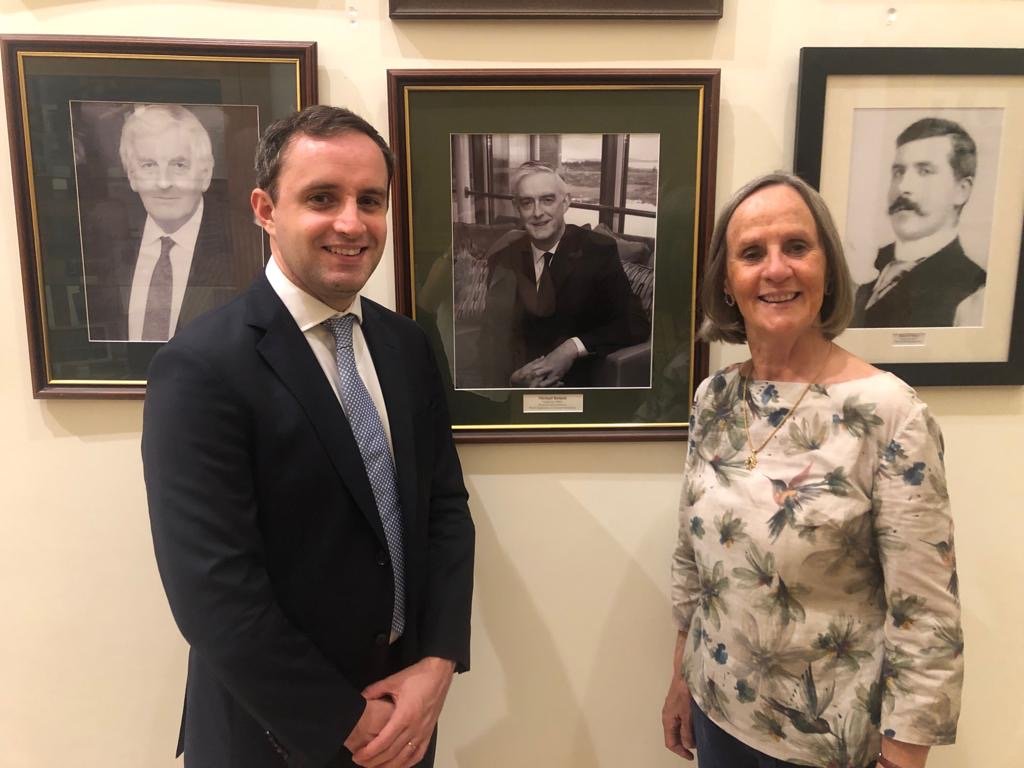 Picture L – R: Dr Michael Boland Jr, Mrs Susan Boland
After a welcome by the Rector and an introduction by the Headmaster, the College Archivist, Ms Margaret Doyle, addressed the gathering and Dr Murtagh gave a short summary about the life and the achievements of each Alumni.
The Headmaster invited a member of each family to place the picture of their relative on the Gallery wall in the Serpentine and The Honourable Mr Judge Nial Fennelly was asked to hang his own picture on the wall.
Afterwards, the whole company adjourned to the Castle where they enjoyed a wonderful buffet meal. Our thanks to all who attended and to the catering staff for preparing the meal which was so thoroughly enjoyed by all.
Distinguished Clongownians
Dr Michael Boland [1960 – 1966] – Physician and President of the World Organisation of General Practitioners.
Mr Hugh Coveney [1950 – 1953] – Minister for the Marine and Defence, and Lord Mayor of Cork 1982 – 1983.
Mr Nial Fennelly [1953 – 1959] – Former Judge of the Supreme Court.
Mr Aidan Higgins [1942 – 1946] – Writer of novels, short stories and radio drama.
Mr Pierce McCan [1899 – 1900] – Republican activist and Sinn Féin MP.
Mr Daniel O'Connell, SJ [1911 – 1913] – Astronomer and Seismologist.
Mr Thomas O' Higgins [1903 -1906] – Minister for Defence.
Mr James O'Mara [1888 – 1892] – Sinn Féin MP and fund-raiser.
Margaret V B Doyle, College Archivist