Pictured L – R: Philip Thomas, Tommy Ingles OC18, Fr. Michael Sheil, Rory Mac Gabhann, Theresa Thomas, Ben Wilkins, Luke Harrington, Rory O'Meara, Luke McMahon, Sam Reilly, Cillian O'hAimghirin, Oscar Martin, Kieran Barrett Gomez, Jack Moroney, James Coonan, Daniel Rock, Hugo O'Donnell OC19
Last Sunday, a group of Rhetoric and Poetry students from the school orchestra made a very special visit to Cherryfield Lodge, a convalescence home for retired Jesuits. The group was joined by members of staff and two Old Clongownians, Tommy Ingles OC18 and Hugo O'Donnell OC19, on their annual quest to raise everyone's spirits with festive music. On arrival, the boys were welcomed by the residents and their carers who were extremely grateful to have a group of musicians performing for them.
The boys had prepared a selection of well-known Christmas carols and songs. Their repertoire included Silent Night, Adeste Fideles, Hark the Herald Angels, Jingle Bell Rock, Rudolph the Red-Nosed Reindeer, and the ever-popular Jingle Bells which brought the house down. Residents and staff sang along to the music and gave a huge round of applause when the performance ended, clearly having enjoyed the visit.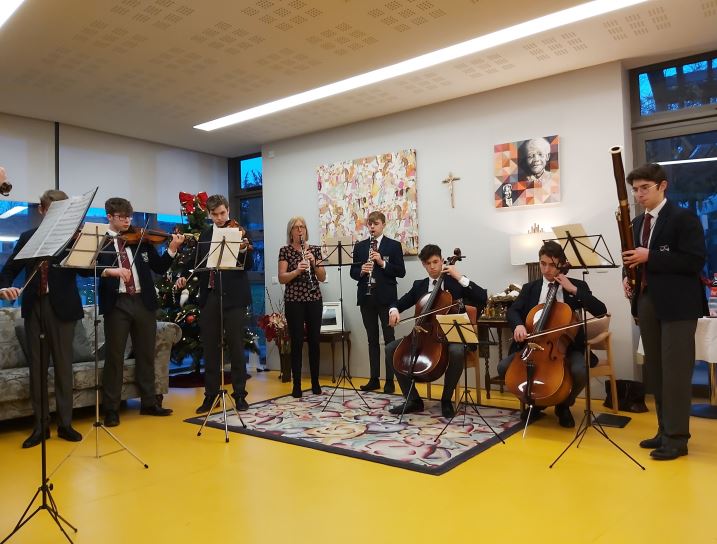 Afterwards, the boys spent time chatting to the community and the nursing home's incredible staff and carers over tea and mince pies. Mr and Mrs Thomas impress year upon year with their commitment to this wonderful initiative and the orchestral group never ceases to amaze with their dedication and talent. Many thanks to Fr Michael Sheil SJ for his generosity in providing a 'taxi service' for more than 15 years enabling this event to go ahead. We must also thank the many students, both past and present, who have given of both their time and talents in order to bring so much joy at this festive time of the year.