"Trust Christ; listen attentively to his teachings, fix your eyes on his face, persevere in listening to his word. Allow him to focus your search and your aspirations, all your ideas and the desires of your heart." (St. John Paul II)
The tenth annual JPII Awards Ceremony took place on Friday 22nd November 2019 in Cill Mhuire Church, Newbridge. It was attended by both students and members of staff – Ms Anne-Marie Dolan (JPII Award Leader), Fr Michael Sheil SJ and Ms Eileen Lumb. The night was opened with a warm welcome from Ms Cathriona Kelly, the Award Coordinator for Kildare and Leighlin, Co. Carlow. The ceremony was followed by a presentation on the life and legacy of St John Paul II who was head of the Catholic Church and sovereign of the Vatican City State from 1978 to 2005. The JPII Award Testimonies followed the presentation. Fr. Paul Dempsey PP gave a personal testimony and Bishop Denis Nulty presented the awards to the 372 award recipients from the diocese, which includes Clongowes, and is made up of 43 parishes and 26 post-primary schools.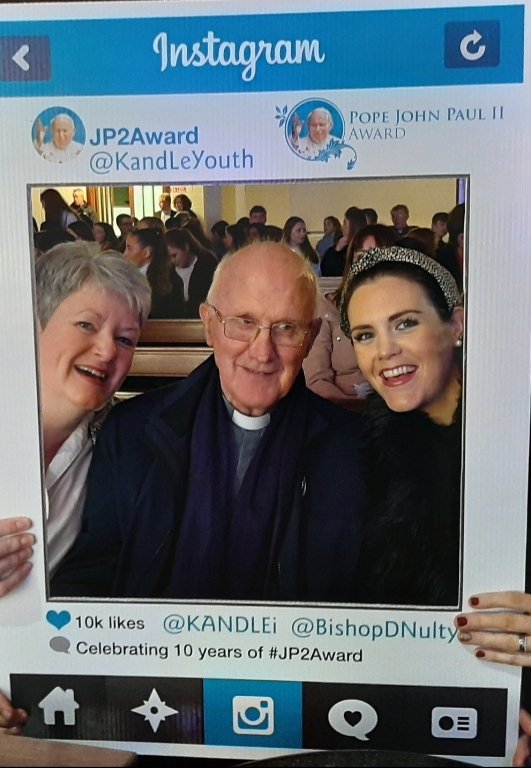 Pictured L-R: Mrs Eileen Lumb, Fr Michael Sheil, Ms Ann-Marie Dolan
After the presentation, Bishop Denis addressed the students, award leaders and parents sharing his thoughts on the importance of the awards in recognising young people's commitment to faith and their communities. Through this award young people in the diocese are enabled to take an active part in the life of their faith community. Clongowes had a total of 16 recipients: 12 Gold Awardees and 4 Papal Cross (the highest achievable award). Congratulations to all concerned!
Award Winners
GOLD AWARD RECIPIENTS
Matthew Cassidy
Liam Duro
Maksmillian Jedrasik
Brian MacHale
Aran Mannion
Patrick Martin
Rory Morrin
Jack Moroney
Charlie Reilly
Fabian Stenzel
James Ward
George Zhuchkov
PAPAL CROSS RECIPIENTS
Michael Behan
Julian Jimenez Ospina
Sam Lumb
Luke Mc Mahon
Ms Anne-Marie Dolan, Pastoral Co-Ordinator