The first Headmaster's Assembly of the year took place on Thursday 29th August, bringing together students and staff in the Boys' Chapel to mark the start of our 206th academic year in Clongowes.
The Headmaster, Mr Lumb, warmly welcomed returning students as well as the many new students who have just taken their first steps on their Clongowes journey. Mr Lumb reflected on the strength of the welcome he had received when he joined as Headmaster 4 years ago and reminded the House Leaders, students and staff that: "We all have a responsibility to ensure our new starters are welcomed into the Clongowes family, and settle into boarding school life quickly".
As well as welcoming new students, Mr Lumb extended a welcome to the new teachers and prefects who have joined the staff this month along with Fr Shane Daly SJ who joined the Clongowes Jesuit Community over the summer.
The Headmaster remarked that the summer months have been busy and much had been achieved – the boys of last year's Syntax raised €55,000 for Our Lady's Children's Hospital on the Duck Push, refurbishment work on the Grammar dorms had been completed and the College was very busy with visiting groups.
Mr Lumb congratulated Rhetoric 2019 on their Leaving Certificate results and their entry into Third Level Universities and Colleges. Thanks were given to the entire team of staff who supported Rhetoric 2019 to achieve their potential. Poetry boys were reminded that preparing for the Leaving Certificate is more of a marathon than a sprint. He encouraged them to be focused and to stretch themselves, keeping their academic targets firmly in mind.
The Headmaster reminded the boys that our Clongowes identity is rooted in our Jesuit approach to education and governs the way we live. It allows each student to flourish as a human being and searches for the best in each boy for his benefit and that of others, as we seek to be men for others. He said: "We co-operate with one another. We have respect for each other. We place a high priority on self-respect. We are considerate of one another."
In closing, the Headmaster reminded the boys that each of them is given every opportunity to reach his full potential in Clongowes and to develop his talents to the full. He concluded with this message for the students: "Strive to be the very best you can be. Strive to be the very best version of yourself. I can ask no more than that."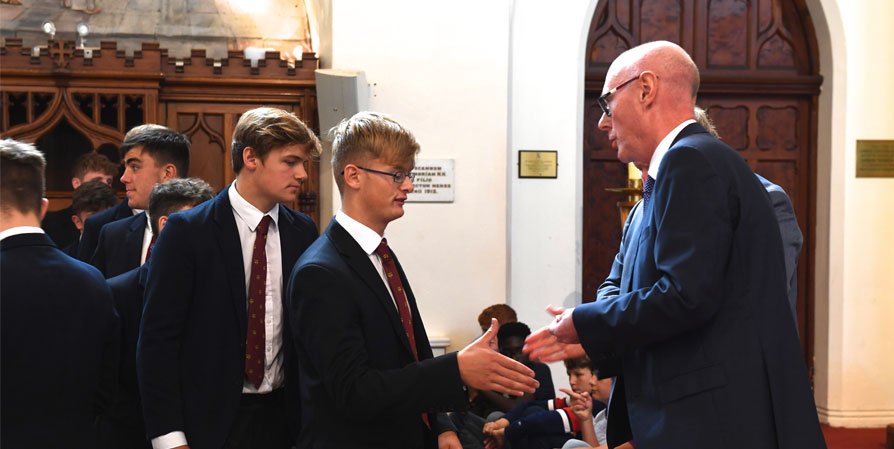 The School Captain (Mikey Mina Ronayne) , Vice Captains (Ruairí O'Regan and Barry Dooley) and House Leaders all formally received their badge of office from the Headmaster as a symbol of their leadership role.
Mikey went on to address his fellow students and staff, welcoming all boys but especially the Elements and other new students that joined Clongowes this week.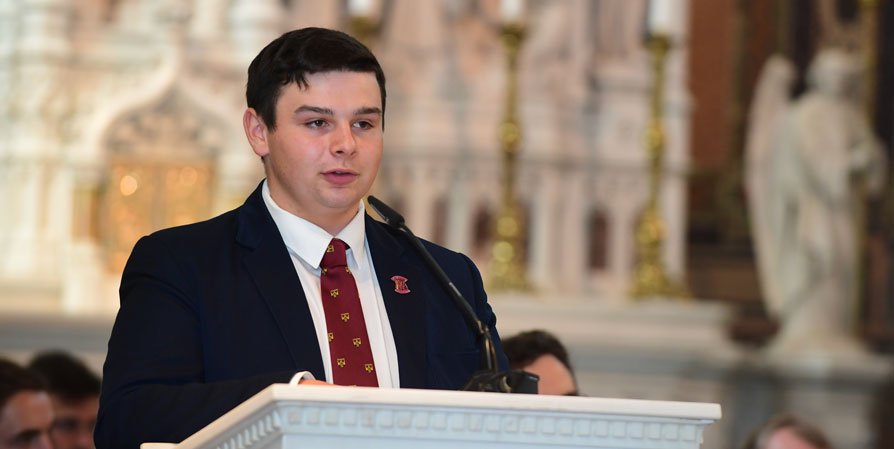 Mikey assured the youngest group (Elements) that despite the challenge of starting secondary school and in their case, at a boarding school, they need not worry, all of the boys understand the emotions they are feeling and 'have their backs'. Mikey's message was one of reassurance to the younger boys making a point that the older boys are here to help and support, reminding all of the boys that Clongowes is not just a school – it is a great community made up of students and staff.
The School Captain encouraged all of the boys to strive to improve in some little way every day and recognised that each day brings challenges and opportunities but as a student body we will face those days together and have much to look forward to.
On a personal note, Mikey expressed his deep sense of honour at being selected as School Captain and the sense of privilege he felt to work alongside his Vice Captains, Barry and Ruairí, and the exceptional team of House Leaders and Rhetoric students.
He concluded with a message of encouragement to the students to begin the year as they mean to continue striving for results in the classroom, striving for cups on the field and striving to be better versions of themselves.
As the Headmaster's assembly drew to a close, Mr Lumb led the school community in the prayer of St Ignatius:
Dearest Lord, teach me to be generous.
To serve as you deserve,
To give and not to count the cost,
To fight and not to heed the wounds,
To toil and not to seek for rest,
To labour and not to seek reward,
Save that of knowing that I do your holy will.