On May 17th, 2019 we arrived at the Brockagh Resource Centre with our shoulders up and minds full of work and the mundanities, routines, stresses and worries of our everyday lives. Almost immediately as we sat for the Reflection with Anne Marie Dolan, these stresses, strains and worries started to dissipate with a palpable exhalation. We closed our eyes and -listening to the soft tones of Anne Marie's voice – took a moment to just be.
This was a day to 'stop and smell the roses'. Quite a few of us admitted that we had not been on a retreat for more years than we cared to remember. We had been missing out. After the reflection we each lit a candle for our personal intentions.
As we set out on the track through the stunning Wicklow countryside, we were greeted by a dusting of rain but no one seemed to care. The camaraderie and general atmosphere was empathetic, friendly and relaxed. Our first stop was at the most beautiful bridge running over a gurgling river/stream and one just had to listen to the water to feel the stresses melt away. Thereafter the group ascended into the hills, stopping for lunch amid the splendour of the Wicklow mountains.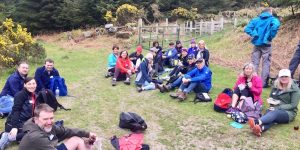 When we all congregated back at the centre for Mass, the effect of the walk was obvious. Faces were rosy, smiles wide, and laughter contagious. Father McGuckian was waiting for us to celebrate Mass. In his homily he spoke about the fact that decisions should be made in consolation not desolation. The Mass was personal and profound. We all sang during the Mass but of particular resonance to a lot of us was the closing hymn, 'Only in God' which has become a personal anthem for many.
We lit our candles again afterwards to mark that bridge between when we arrived and the end of the retreat. A bridge crossed between constantly chasing one's tail and stopping to smell the roses and feel the presence of God in nature and those around you. It really was an experience of the person with God.
Time to stop and stare
Whilst walking I could not help but recall the poem of William Henry Davies:
What is this life if full of care we have no time to stop and stare.
No time to stand beneath the boughs and stare as long as sheep and cows.
No time to see, when woods we pass where squirrels hide their nuts in grass.
No time to see in broad daylight streams full of stars, like skies at night.
No time to turn, at Beauty's glance and watch her feet , how they can dance,
No time to wait till her mouth can enrich that smile her eyes began.
A poor life this if, full of care, we have not time to stop and stare'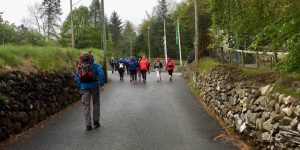 Many of us then retired to the Wicklow Heather restaurant for a most enjoyable meal, refreshed, reinvigorated, and ready to take on the challenges of life.
The Parent Retreat 2019 was a truly enlightening experience that made many realize 'a poor life this if full of care we have no time to stop and stare'. For when we did that, we experienced God. A very special 'Thank You' to Anne Marie Dolan and Father McGuckian for making the whole experience so special. Roll on next year!
Alexis Mina (mother of Mikey Mina-Ronayne)