Irish Inter-Schools Team Fencing Championships
Last Saturday (May 18th) saw the 2nd Irish Inter-Schools Team Fencing Championships take place at Clongowes with 14 teams from across Ireland. (Pictured above are Vlad Spiru and Dermot Collins from the Elements B team). The Rudiments year team made up of Alex Lee (captain), Kosi Ugwreru and Seán Opara, fenced well winning their first two matches convincingly (45/30) against Dunamase College and then Glenstal Abbey (45/40) to take them into the final. Here they fenced a brave fight against Royal Belfast Academical Institution. Each team member played their part but it was Kosi (who won his 2nd fight 10/3) that was man of the match as the team finished second to take the Silver Medal.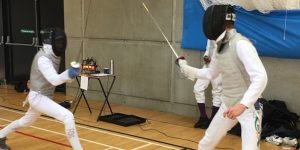 Alex Lee (Rudiments A team) fighting against a fencer from Glenstal Abbey
Elsewhere the Rudiments C team fenced well in their last match with captain Seán Hallissey cheering on his teammate Emilio Vega to a triumphant 16 hits in the final three minutes of the match to beat Dunamase 45/42.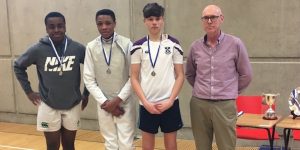 Kosi Ugwreru, Seán Opara and captain, Alex Lee from the Rudiments A team receiving their silver medals from Mr Lumb
For the two Elements teams this was the first competition for a lot of the fencers and quite a challenge. The 'Italian Relay' system for fencing team events means that you are on the piste on your own fighting for your team. Expectations are high and the pressure can be intense. However both the A and B teams stepped up to the mark. The A team: Marcus McElligot, Dermot Collins and Vlad Spiru won two out of their three matches, beating Glenstal Abbey (45/39) in the first round, narrowly losing to Royal Belfast Academical Institution in the second and then winning their final match against Dunamase College (45/40) to clinch the Bronze medal. A great day of fencing for all the teams with prizes donated by parent Adrian Lee and presented by the Headmaster, Mr Chris Lumb.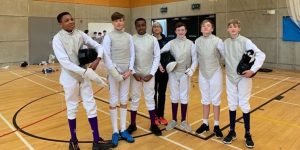 Seán Opara, Alex Lee (Captain) and Kosi Ugwreru (Rudiments A team). Fencing coach, Ms Katie Arup. Rudiments B team. Dane Cormack, Matteo Mazzolli (Captain) and Conor Crutchley