African Immersion Experience
Planning for the African Immersion Experience began in late October and – having spoken to students who had previously travelled on this trip – we felt we had to apply. Students who were interested in travelling to Lesotho were interviewed individually to ensure that our motives for travelling and our suitability for the trip were matched. We journey to Lesotho as Pilgrims, Servants and Students and our faith plays a huge part in why we travel and how we are guided through the experience.
As servants we help the Malealea Development Trust ran by Tello and his team in whatever way we are asked: by building water tanks, digging trenches or concreting the Church floor. We raised funds prior to our departure to purchase the building materials which we would need. We received a huge amount of support and were able to raise a very impressive €25,000 and Tello revealed that Clongowes is their second highest contributor each year. Here we must register a special thank you to Ms Liz Griffin for all her work that really does not go unnoticed.
Our crew of 19 Pilgrims arrived in the Malealea Lodge, Lesotho late at night, led by Mr Liam McGovern and his assistant, Mr Colm Maloney (OC'97), Ms Jane O'Loughlin and the Rector Fr Michael Sheil. By night we could see every shining star in the sky, while during the day we could see the vast mountain ranges stretching over the horizon. It was hard to imagine how far away from Ireland we were, but everyone approached the job ahead with energetic enthusiasm.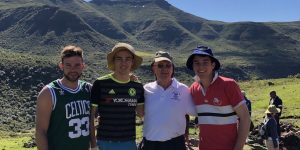 A great sense of fulfillment
On the first morning we met the members of the Malealea team such as Tello and Mapadiso, and headed up into the mountains to Botswala to help build the water tank that the locals had asked for. We worked efficiently as we dug through layer upon layer of mud, clay and stones and at the end of the day it was very satisfying to see the general foundations of our work. Over the following days we went to Malealea and helped in the school. The children there were so happy to see us (and the work gloves we were wearing), seemed to laugh at everything we did and – like us – were delighted to get out of class. We planted a huge number of pine trees in the fields behind the school, which – again – gave us a great sense of fulfillment.
On Palm Sunday we attended an Easter Mass that lasted 3 hours and 20 minutes (!) but it didn't actually feel like that amount of time had passed. A particular highlight of the Mass was to see Fr Rector climb on and off a donkey during a procession at the start. Following Mass we had the annual soccer match against the Malalea soccer team, who seemed to have underestimated us as they decided to play their B team, which mainly consisted of 11 year olds! Despite some home town refereeing from Mr Colm Maloney, we managed to win the game 2-1, as the wet weather conditions suited our physicality and over exuberance more than the locals.
That evening we were collected in pairs by our host mothers, had dinner with their families and shared the gifts we had brought before we went to bed. We were amazed at how welcoming each host family was during what was undoubtedly the best and most rewarding experience of the trip. Our day in Johannesburg gave us a fascinating look into the Apartheid Movement as we got to see Soweto, the Regina Mundi Church and the Hector Pietersen Museum while our guide Snowy explained the significance of these places.
An other-wordly place
Every day that went by brought a new and rewarding experience and no two days were the same. These ranged from entertaining the locals by dancing when we should be working, playing stickball with chunks of muck taken from the ground, or desperately trying to keep our gloves as the small school children attempted to take them from us! Taking yourself out of your comfort zone into an other-wordly place like Lesotho is easier said than done, but it ended up being one of the most worthwhile trips we've been on in our time here in Clongowes.
The people in the Mountain Kingdom are amazing – so happy and so welcoming. Although there was a big language barrier, we still managed to communicate and have fun with the locals and they were very encouraging when we began to dance for them (we are still unsure whether they were laughing with or at us…). The African Immersion Experience to Lesotho is a trip that every student should try to involve themselves in if they get the chance. You get the opportunity to know your peers better, get better acquainted with staff members and the illustrious Fr. Sheil – all the while creating memories that will stay with you forever.
Mikey Mina Ronayne, Joseph Dundon, Cameron Gallagher and Simon Beggs
Pilgrims: Simon Beggs, Michael Behan, James Coonan, Barry Dooley, Adam Quinn, James Foster, Killian Fitzpatrick, Kealan Noone, Hugh Hogan, Robert Jones, Marcus Jankola, Andrey Runov, Harry McGeough, Ruairi O'Regan, Joseph Dundon, Cameron Gallagher, Mikey Mina Ronayne, Ben Wilkins, Caden Tynan, Fr Michael Sheil sj, Mr Colm Maloney, Ms Jane O'Loughlin, Mr Liam McGovern.