Congratulations to Sean Lannen (Grammar) who took first place and a gold medal in the 'Buachaillí' (boys 8-15)section of the Feis Ceoil in Sligo earlier this month. Sean was then declared the overall Under 15 winner and has been invited to perform in the Feis Ceoil Prizewinners concert. Previously Sean had been successful in the Wesley Interschools' Music Festival as have Matthew Cassidy (Syntax) and Captain Hugo O'Donnell (Rhetoric) and this year they were joined by the latest budding singer from Clongowes – Poetry's Charlie O'Neill.
The Wesley Interschools' Music Festival was Charlie's first competitive outing and he debuted in the Over 17 Popular Song category, where he was awarded 'First Class Honours' for his performance of 'Your Song' by Elton John. Charlie then changed genre and sang Gounod's 'Ave Maria' in the Over 17 Classical category, where he was awarded a 'Highly Commended' by adjudicator Phillip O'Reilly, who praised him for his controlled delivery of the challenging song.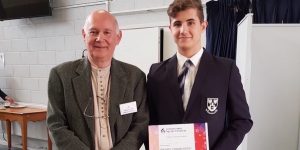 This competition attracts over three thousand musicians from schools all around the country and this year our combined Elements and Senior Choir represented the school in the 'Frank Hughes Cup', which featured male voice choirs from Dublin to Cork. They gave a rousing performance of 'One Day More' from Les Misérables but just failed to take the trophy. Adjudicator Dr Joseph Ryan noted the high standard in the competition, and – while he gave first place to the Libermann Choir of Blackrock College (with a mark of 89) – he praised the Clongowes Choir for their 'fine full sound' and awarded them a mark of 87, a mere 2 points behind the winners.