The Green-Schools Programme in Clongowes was initiated in January this year by Joey Kennedy (Rudiments), who is chair of the committee. Joey tells us what's involved…
The Green-Schools Programme was set up to make the school more aware of our school environment and to teach students how to continue to recycle later on in their lives.The Committee consists of seven staff members (Teachers, Maintenance, and Senior Management) and three students (Third Line, Lower Line and Higher Line) and is funded by the college. We meet once a month to monitor developments and we also have a Green School notice board to keep students and staff up to date on the progress we are making.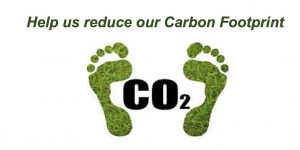 We have now registered with the Green Schools Programmeand our first aspiration is to address recycling and waste reduction across the College. The catering department has already introduced LeanPath technology within that allows us to measure and track our daily waste. This will give us full visibility on our food waste stream which will enable us to make informed decisions about preparation and production in order to prevent food waste from happening.
Students and staff have already been called to action and have been challenged with clearing off their own plates, cutlery and trays into our newly installed recycling units which allows us to measure and track waste levels. A food waste awareness programme with our students is in progress driven by our Catering Committee.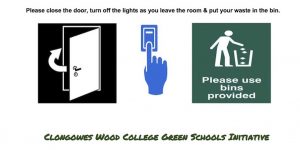 The Green-School Programme is set up in 90% of all primary and secondary schools in Ireland. In this initiative there are six Green flags
Litter and Waste
Biodiversity
Energy
Water
Travel
Global Citizenship.
The Green School Committee is aiming to get all six flags, but will start with the first one!!!! All help greatly appreciated.