We are approaching an eventful time of year for the Clongowes School Orchestra. After many months of perfecting our repertoire, the orchestra will be giving a concert in conjunction with the Dublin Youth Orchestra on Friday 29th March at 6pm in the Sports Hall. It is the first such occasion that we have been afforded the opportunity to host the Dublin Youth Orchestra at Clongowes, and it promises to be a breathtaking spectacle!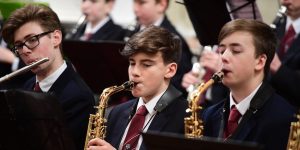 This will be the last time that parents and the extended Clongowes community will be able to hear the orchestra before our biennial trip abroad, this year to Barcelona. Just days after the concert, the orchestra will be departing for Catalonia, where we look forward to playing two concerts as well as taking part in other cultural excursions. It will be a particularly poignant trip for the Rhetoric students, as we embark on our last orchestra tour together.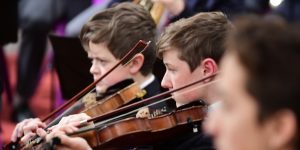 Friday's event is part of the Transition Year Duck Push, which raises funds for medical equipment for Crumlin Children's Hospital. This project, which is in its 26th year, has raised over €2m for medical equipment to date and all monies raised on Friday will go towards the purchase of equipment for Our Lady's Children's Hospital Crumlin – so we hope to see as many of you there as possible.
Fred Sargaison, Orchestra Leader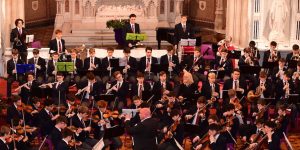 .