The cup season is well and truly upon us and the Junior and Senior campaigns continue apace as their competitions reach the quarter and semi final stages respectively…
The seniors were first into the arena in a tough encounter with Wesley College. The men from Clongowes led 8-0 at half time when John Maher's try added to David Wilkinson's eighth minute penalty. Ross MacGoey's 49th minute try, converted by Wilkinson seemed to leave clear water between the teams but Wesley struck back almost immediately with a converted try of their own to bring the margin back to eight with more than ten minutes remaining. That lead might well have sufficed but John Maher made quite sure with another try for a 20-7 victory. (Full report here).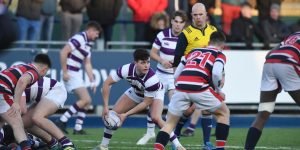 CBC Monkstown provided the opposition in the quarter final, where a match that had see-sawed for much of the first half and appeared to be heading for a 3-3 score at the interval was effectively decided in the 'championship' minutes either side of half time by two converted tries and two penalties for Clongowes. Monkstown dotted down once in that time while Clongowes score three more tries for a final scoreline of 38-10 and a place in the semi final (for the eighth time in ten years) against sister school Gonzaga College. (Full report here).
Semi Final v Gonzaga College: Tuesday, March 5th, Donnybrook: 15.00.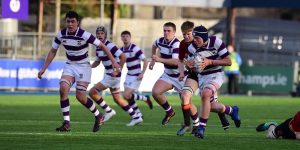 The junior team followed their senior brethren into the quarterfinals of their cup with victory over Castleknock College on February 3rd. Flavio Macari touched down after 10 minutes and Charlie McNamee added the points for a 7-0 lead. Castleknock responded with a converted try (7-7) before McNamee's penalty left Clongowes 10-7 ahead at half-time. James Ruddy's touchdown gave an eight point lead (15-7) before another converted try from Castleknock made it a one-point game with 15 minutes to play (15-14). Once again it was McNamee who settled the nerves with a fine penalty and Clongowes saw out the remaining time for an 18-14 victory. (Full report here).
Quarter Final v Newbridge: Wednesday, February 27th, Donnybrook: 15.00.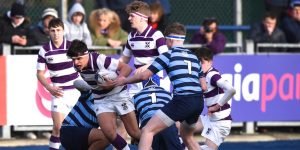 The sweetest of cups
It is 92 years since Clongowes first won the Leinster Schools Senior Cup. It took us 52 years to repeat the feat and we have won six more in the intervening 40 years. Meanwhile the juniors have won five trophies since the last days of the Second World War, the latest in 2008. Each one of these successes is precious and each is to be prized in this, our 97th year of cup rugby. The current crop of players are proud successors to every cup squad that Clongowes has sent forth over the years, and they cherish the hopes of being one of the favoured few to return next month with the sweetest of cups. The '23rd man' (this means you!) has always been an integral part of the cup campaign and so we encourage you to come along and support the boys as they keep the purple machine rolling along the roads to the RDS and Donnybrook in March.
All together now… 'Womba! Womba! Womba!