Clongowes Wood College 18: Castleknock College 14
Forty years ago this month the Clongowes Junior team captained by Paul Dowling (OC'81), defeated Castleknock College in a first round match that is remembered as much for the snowstorm in which it was played as for the result. Yesterday in Donnybrook Paul, whose son Leo was to be found in the front row of the scrum, was one of several Old Clongownians, to be represented on the pitch as the sons of Tim Kiely, Jim Ruddy (1987), Adam MacNulty (1988) and David Wilkinson (1985) – John, James, Shane and Hugh respectively – all started the match while Harry Coveney, son of Tony (1995) was amongst the substitutes.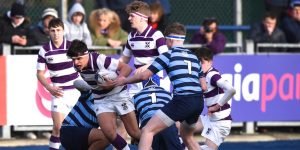 Clongowes, with a slight breeze over their right shoulders, were the quicker to settle and a period of pressure at the Wesley end of the ground allowed Flavio Macari (above) the opportunity to touch down after just 10 minutes and gave fly half, Charlie McNamee, a relatively straightforward conversion (7-0). Nothing daunted, Castleknock responded with a period of pressure of their own and were back in the game on 25 minutes with a converted try (7-7). However, McNamee steadied the ship three minutes later with a penalty to leave Clongowes ahead at half-time (10-7).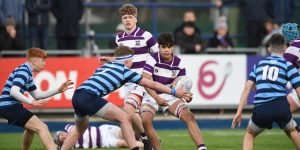 Clongowes again started the stronger on the resumption and lock James Ruddy (seen above supporting Inigo Cruise O'Brien) was the one to cross the whitewash following good work by his colleagues in a determined and hardworking Clongowes pack. Although McNamee's conversion fell victim to the tricky wind to drift agonizingly wide, the eight points that now separated the teams seemed to leave clear water between the teams and promise fair sailing. Or so we thought (15-10).
Back came Castleknock and another converted try made it a one-point game with some 15 minutes to play (15-14). Once again it was McNamee (above with Shane MacNulty in support) who settled the nerves (somewhat) with a fine penalty leaving Castleknock in need of a try as the endgame approached (18-14). Although each side had opportunities in the final ten minutes, the Clongowes supporters were not the better of a series of Castleknock scrums and penalties on our '22' before a crucial turnover, with the clock well into the red zone, saw the ball kicked dead and Clongowes back in the quarter final.
Quarter Final v Newbridge: Wednesday, February 27th, Donnybrook: 15.00.
Clongowes Wood College: S MacNulty; C Kedde, J Kiely, E O'Regan, S Noone; C McNamee, H MacGoey; F Macari, L Dowling, T O'Donnell; J Ruddy, D O'Brien; L Burke, I Cruise O'Brien, H Wilkinson (Captain). Replacements: JJ Reihill, J Wyse, J Mangan, J Dunne, A Kelly, T Hennebry, J McNamee, H Coveney, T Cullen, P Sholarin.