In a powerful and moving Morning Prayer on Monday, a group of Elements students made a presentation to the entire school on the 70th Anniversary of the Universal Declaration of Human Rights. This is the text of their presentation:
Today is the 70th Anniversary of 'Human Rights Day', a day to 
celebrate the United Nations General Assembly's adoption and proclamation of the 'Universal Declaration of Human Rights'. 
The 'Universal Declaration of Human Rights' is composed of 30 non-legally binding rights. These rights are aspirations and hopes that the United Nations strive to achieve and 
make reality. They have a utopian vision where all people are treated equally, no matter their race, colour, or gender.
Today, is a day to reinforce those ideas, and to bring awareness to Human Rights and to get the United Nations ideals and aspirations harmonised across the globe. 
With more and more countries joining the United Nations, there is hope that this will happen. 
I invite you now to join us in prayer:
Praise to You, faithful God of life and freedom.
Giving thanks, we celebrate your deep desire for equality and dignity amid diversity.
Guide us to hear, as one, the cries of those made poor and the cries of the Earth.
Together with peoples of every place and nation,
 we honour the 70th anniversary of the Universal Declaration of 
Human Rights, protecting individuals, upholding the common good . . . unfolding still in modern history.
We pray for those whose rights are ignored, violated, and denied and for those displaced, abused, and trafficked.
Send us your energizing Spirit to speak the truth and to be the light in darkness. 

With trust and hope, we pray in the name of Jesus who stood with those oppressed, bringing Good News in his time, for all ages.
Amen.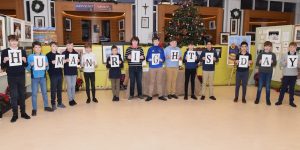 We are all born free. We all have our own thoughts and ideas. We should all be treated in the same way.
 Women continue to be denied their rights in many parts of the world, particularly in Islamic countries where they frequently are treated as property rather than as humans.

Is this right?
Don't Discriminate. These rights belong to everybody, whatever our differences. People with disabilities are more than twice as likely as those without a disability to experience discrimination in all areas – at work, in recruitment and in accessing public and private services.
Is this right?
No Slavery. Nobody has any right to make us a slave and we cannot make anyone our slave.
 Modern slavery includes forced labour, human trafficking, sexual exploitation, debt bondage and forced marriage. One in every four modern slavery victims are children.
Is this right?
The Right to Trial. If someone is accused of breaking the law, they have a right to a fair trial and are always innocent till proven guilty.
 Thousands of people in Asia have been sentenced to death because of unfair trials.
Is this right?
We have the Right to Seek a Safe Place to Live. If we are frightened of being badly treated in our own country, we have the right to go to another country to be safe.
 There are approximately 68.5 million forcibly displaced people in the world, including 25.4 million refugees. Recently a hotel in Donegal earmarked to welcome more than 100 asylum seekers was set on fire one Sunday morning
Is this right?
We have the right to affordable housing, medicine, education, and childcare, enough money to live on and medical help if we are ill or old. There were 9,724 people homeless from October 22nd-28th2018 in Ireland, including adults and children. In Chad, which is one of the poorest countries in the world, there is very limited health care resources, with only four doctors per 100,000 population.
Is this right?
Every grown-up has the right to do a job, to a fair wage for their work, and to join a trade union. Migrant fishermen working on Irish registered trawlers have recently claimed that they have been exploited, underpaid, racially abused, worked to exhaustion and in some cases assaulted. They worked an average of 116 hours per week but are only paid an average of €2.83 per hour.
Is this right?
The Right to Education. Education is a right. Primary school should be free. There are 775 million people in the world who are illiterate,. Nearly 70 million children around the world today cannot get a basic education. More than half are girls.
Is this right?
We must stand up for others who have no voice, 
whose rights are being denied. As future leaders in society, we must make a difference. We must become 'Men for others' and play our part in protecting the rights of others.
No one can take our rights away!
The boys involved were: Jack Shannon, Conor Lysaght, Marcus McElligott, Oliver O'Callaghan, Philip Casey, Mark Kelly, Jack Shannon, Daniel Schacht, Aodhan McGuinness, Vlad Spiru, Max Bradshaw, Matt O'Leary and Jack Shannon 
and the project was co-ordinated by Ms Derval Dooley.