While the IRFU was founded in 1874 it was some fourteen years more before some Clongowes students asked the Higher Line Prefect to have rugby posts erected and not until 1923 that Clongowes entered the lists in the Leinster Schools Senior Challenge Cup. Success came early with a somewhat controversial victory over our sister college, Belvedere in 1926 but was not to be repeated at senior level until 1978. This year marked the 40thanniversary of that second Clongowes victory and the skipper of the team, Greg Dilger, penned this tribute to the man behind the plan, on behalf of Rhetoric 1978 and Panel One…
The 17th of March 1978 will always be a special memory for everyone in Clongowes at the time, but especially those of us in Senior Panel I as we overcame huge psychological hurdles to claim a Leinster Schools' Senior Cup that we probably had no right to win. I guess when your school hasn't won a senior cup in 52 years it is not surprising that you become somewhat conditioned to losing gracefully but the main reason 1978 was SO dramatically different was down to the arrival in Clongowes of one Michael Sheil sj. Unlike another well known manager, Michael never dared to call himself 'The Special One' but there is no doubt that he was. Over the years so many compliments and tributes have been paid to Michael that it is difficult to say anything particularly new. Yet to say that he was one of the most influential people in our lives is no exaggeration.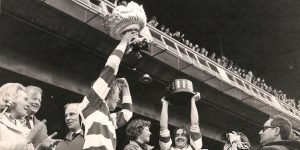 A clear vision
Of course, Michael was a brilliant and innovative rugby coach and way ahead of his time. His training sessions were sharp and purposeful; never before did we have such a clear vision of what we were doing both as individuals and as a team. He sensitively let you know what your weaknesses were and what you needed to do to improve.Nor was he slow to let you know when agreed standards weren't met, but was hugely encouraging about what we did well and helped us to build on that. He taught us to understand that it was worth doing the ordinary things extraordinarily well.
Michael was enlightened and confident enough to bring in specialist expertise in the shapes of Roly Meates and Ollie Campbell. Many coaches of that era might have been a bit too proud and threatened to do that, but 'he was way ahead of his time!'The way that he pulled together a bunch of ordinary guys, who in all honesty had never shown any cup winning potential through the previous five years and turned us into a winning outfit, is quite simply an incredible coaching achievement.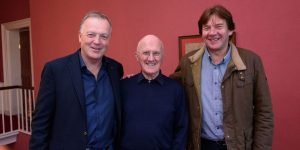 A culture of excellence
Off the field as our Higher Line Prefect he was even more influential. I speak for all of our group in saying that he tried to make us better people. He challenged us constantly and encouraged us to think better about life and what was and wasn't important. Looking back, it's clear that he was a driving force in creating a culture of excellence – not just in Clongowes rugby – but in Clongowes generally.And yet we know that WINNING was never his obsession. He was passionate about helping individuals and teams to get better, after which the results would look after themselves and got just as much satisfaction from coaching the Thirds as the SCT.
Michael Sheil always refuses to accept praise for the '78 Cup win without sharing it with his good friend the late, great Vinny Murray.Vinny played a major part in our success and went on to lead Clongowes to even more Senior Cup success before he sadly passed away in 1999. Not surprisingly Vinny would always say that Michael Sheil taught him everything he knew about rugby. The great man celebrated his 80th birthday in June this year. A very simple calculation reminds us he was only 40 back in 1978. A full 18 years younger than we are now. And we thought he was ancient!
(You may read more about Fr Michael Sheil sj, currently Rector in Clongowes, and his long association with the college here: '60 Years and Counting').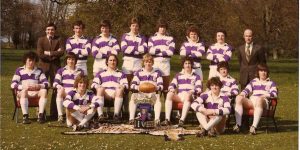 Leinster Schools' Senior Cup Champions 1978
Backrow: Vinnie Murray (RIP); John Bolger, Mark Collis, Con Clifford, Tim Meagher, John Rock, Willie Burns, Fr Michael Sheil sj
Seated: Martin Coyne, Ambrose O'Sullivan, Barry Walker, Greg Dilger (captain) Dermot Waldron, Gerry Healy, Freddie Browne
On Ground: Tony O'Sullivan, Mark Attride (RIP)