Ho Ho Ho…
Fabulous Christmas Cards are currently on sale in aid of the Duck Push, which purchases medical equipment to help treat sick children.
The high quality Christmas cards feature art by Jacinta Crowley-Long (www.crowley-long.com) that depict wonderful winter scenes of the Castle and College at Clongowes.
One pack of six cards cost just €5 with five packs for only €20.
Call to reception to buy the cards or contact us directly by email: duckpush@clongowes.netand we will arrange collection. Cards will also be available after Mass on Sunday.
We hope you consider showing your support for this special charity and all in Syntax who will push the duck next June 4th – 14th .
Brian MacHale, Patrick Fitzpatrick, Billy Butler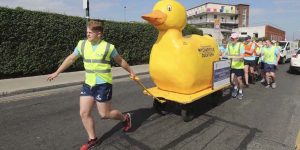 Transition Year Duck Push
Each year the Transition Year students in Clongowes have made raising money to buy a piece of life saving equipment for Crumlin Children's Hospital an annual goal. Equipment to date has included portable ultra sound machines for use with children with limited mobility and machines to help diagnose cancer patients more quickly. Duck Push 2018 provided recussitaires (special hi tech beds) for the hospital's Intensive Care Unitto help care for the hospital's youngest children.
Last June, 30 students accompanied by teachers took to the road again pushing the Duck from Crumlin Children's Hospital in Dublin all the way to Limerick. Before pushing the Duck across the country over eight days in June students also raised money through a whole variety of activities during the year. These ranged from mini companies and pop up cafes to barbecues and washing cars, making use of a host of abilities, talents and skills along the way. Over €67,000 was raised thanks to the generous support of students, parents and friends as well as the warm response of those who heard about our project.