Wellness Day 2018
How well are you? No really. How well? We may be 'well off' or 'well up' on something, but how well are we really? 'Wellness is more than being free from illness – it is an on-going process of change and growth, an active process of becoming aware of – and making choices towards – a healthy and fulfilling life.' These were the words of our Pastoral Co-Ordinator, Ms Anne Marie Dolan, as she launched Clongowes' second Wellness Day in the Boys' Chapel yesterday morning (Thursday, 22nd November).
Earlier, the Headmaster, Mr Chris Lumb, had introduced the day by noting that wellness was far from new in Clongowes and was actually as old as the school itself as it is embodied in the Jesuit practice of Cura Personalis or 'care of the individual'. Mr Lumb said that today would be about heightening the awareness of wellness throughout the school and thanked the organising committee, and in particular Ms Dolan, for bringing this to fruition.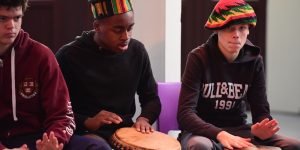 Ms Dolan explained that Wellness Day was one of our two goals around promoting positive mental health (along with Lunchtime Meditation Fridays, which commenced last month) as we aim to retain the Amber Flag awarded to us last year in recognition of our positive approach towards Mental Health Awareness. 'Wellness matters' she went on, 'because everything we do and every emotion we feel relates to our well being [which] directly affects our actions and emotions.'
Ms Dolan explained that the various activities during the day offer each of us different dimensions of wellness: Emotional, Environmental, Physical and Spiritual. Her hope was that we would enjoy the day, have fun and grow together as 'House' communities, which in turn will add to the entire school community. She emphasised that 'Christian faith ought to involve, not just head, but heart; not just soul, but body' and wished us a very enjoyable day day of head, heart, soul and body.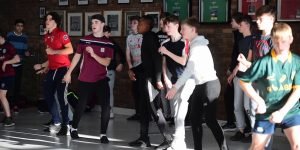 Ms Dolan then introduced our School Counsellor, Mr Dermot Coonan, who gave a soothing and inspirational talk in which he encouraged us to be sanguine about the fact that our day-to-day lives may never be in line with our higher selves. Nonetheless, he said, it is important to be aware of a higher self and to strive to be true to that.
Life is terrifying, he said, but it is also terrific. Life is awful, he said, but it is also awesome. Our higher selves exist with our other selves – our angry selves, our jealous selves, our nasty selves – on the 'bus of our lives. He suggested that we let that 'bus be driven by our compassionate self before reminding us that wellness is a choice and encouraging us to find our 'people' – be they family or friends or teachers – and through them to find ourselves.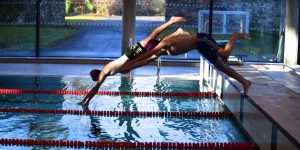 And then the games commenced as the boys (and quite a few members of staff) departed for the four points of the campus, there to partake in Walking, Dancing (yes), Yoga , Meditation, Swimming, Mindful Colouring, Strength & Fitness some (very energetic) Drumming and Inflatable Zorbs (don't ask – see the pictures).
Well, well, well…