Continuing what is fast becoming an annual tradition, the Clongowes Trad Group 'bus rolled out the drive on Friday November 9thin search of a music venue of note to pass a few hours playing and enjoying good music. Instead of heading for the west this time, the group headed east to the oldest pub in Dublin, The Brazen Head.True to form, Mrs Heslin had snacks for all on board and the journey time to Dublin passed quickly amid sounds of munching and chomping!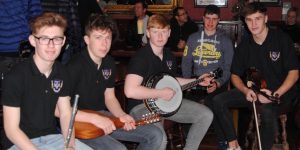 Upon arrival the group set up in a little corner and, after the obligatory tuning, bowing and plucking, launched into a lively set of jigs. There were many tourists in the pub and much to their bemusement, the group added to the Irish stereotype of people just playing music and having the craic at any hour of the day. A particular group of Swiss gentlemen were very appreciative of the afternoon's entertainment and were very encouraging and vocal in their enjoyment. A break for delicious bowls of stew ensued and the group spent a very pleasant half hour together chatting and enjoying the relaxing atmosphere. Our magnificent 'bus driver Mr Tony Egan was made an honorary member of the Trad Group and was presented with a much coveted T-shirt by Mrs Heslin.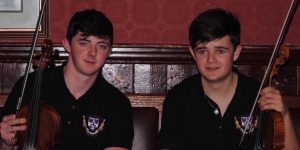 Lots more music was played but all too soon it was time to pack up and return to school. Instruments were gathered up and and after a frantic dash through a downpour, the group were soon back on the bus and heading for home.
Under the leadership of Ms Catherine Heslin, the Clongowes Trad Group is a collaboration between staff and students across all years. Many thanks to Mr Shane Heslin and Mr Noel Mason who are a fantastic support and inspiration and to all the wonderful young musicians who are such a pleasure to play with.
Mrs Catherine Heslin