Fordham Prep visit to Clongowes: 13th– 20th October
2017/2018 saw the launch of our exchange with Fordham Preparatory School in the Bronx, New York. Fordham Prep is a Jesuit High School made up of some 1,000 boys who attend the school for a total of four years before progressing to College studies. Founded in 1841 the school is, as its name suggests, a Preparatory school for Fordham University and is located on the same campus in the Bronx. Last November we welcomed some students and staff from the school to Clongowes and the good folk in Fordham reciprocated the invitation in February during the Mid-Term Break. Last week another delegation from Fordham arrived in Clongowes and Nelson Ritter from Fordham takes up the tale…
At the end of our school day on Friday 12thOctober the six members of our 2018 visiting group boarded a school 'bus from Fordham Prep to travel over an hour (although it's only 18 miles) to JFK airport, whence we departed for our week-long stay in Ireland. At Dublin airport we were warmly greeted by the Clongowes pupils who would serve as the host 'brothers' for our four students (all in the third of their four-year secondary school sequence), by their parents and by Mr Tom Carroll. All of the students dispersed to the homes of their host families, where they stayed until Sunday night.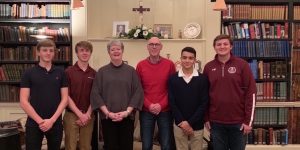 Pictured above in the Jesuit Community Library are Aidan Galvin, Connor Tobin, Esteban Quinones and Brendan Borowsky with the Headmaster, Mr Chris Lumb and his wife, Eileen.
Monday's activities included attending classes in the morning, a tour of the Castle and College Archives courtesy of Ms Margaret Doyle and participation in games and activities in the evening. Tuesday provided us with time to reflect on our trip thus far (during which we all commented on the warm welcome we received from students, faculty, staff and the Jesuit community at Clongowes). Then the boys had some more time in class before participating in the Transition Year Social Outreach Programme. In the evening we were taken by 'bus to a small pub' deep in the heart of the Kildare countryside, for a performance by the Clongowes Traditional Music Group. This is something of an institution in Clongowes to raise money for Trócaire, the official overseas development agency of the Catholic Church in Ireland.
The following day we were privileged to attend the Official Opening of the New Swimming Pool by an Old Clongownian, Simon Coveney TD, Tánaiste (Deputy Prime Minister). The event was also attended by a former Headmaster of Clongowes, Fr Leonard Moloney SJ, who is now Provincial of the Irish Jesuit Province. Fr Moloney blessed the pool on what was clearly a day of great excitement and celebration for Clongowes.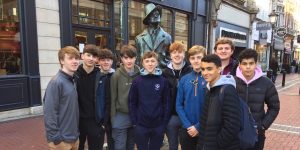 Thursday was our get-away day, as we enjoyed a walking tour of James Joyce's Dublin, led professionally and skillfully by Mr Carroll. After leading the school in an Ignatian examen for Friday's Morning Prayer, we were treated to a private tour of Copper Beach Stables led by Mr Mick Halford; many thanks to Mr Jed O'Leary (OC'87) for arranging such an interesting and fun visit of the whole training grounds.
On Saturday morning, we headed back to the States, our heads replete with fond memories of incredible hospitality and bonds formed among a group brought together by the global network of Jesuit schools. We look forward to hosting the six Clongowes pupils when they visit New York next April.
Ad multos annos – AMDG
Tom Carroll adds:
The Fordham Preparatory exchange is based on a shared experience of being part of a Jesuit global school community. We cannot continue to speak of our Jesuit identity unless we live it practically and concretely. This exchange is an attempt to push beyond our boundaries and explore another part of the world – if only for a couple of times a year. Hopefully from these fledgling inaugural visits to New York and Ireland will come the growth of friendship and experience that makes us who we are.
Fordham Prep guest "brothers"
Clongowes host "brothers"
Fordham Prep staff

Brendan Borowsky

Aidan Galvin

Esteban Quinones

Connor Tobin

George Coman

Jack D'Arcy

Oisin Devitt

Harry McGrath

Tadhg O'Ceallaigh

Jay O'Leary

Brian Carney

Nelson Ritter