Transition Year Outdoor Educational Trip
We arrived in the East Coast Adventure Centre in Rostrevor at lunchtime on Tuesday (September 25th) and were shown to our rooms or (in our case) pods outside the main building. At 14:00 we set out to walk 10km to a camp site where we were told to build our shelters (that we would be sleeping in!). Success was mixed but some people like James Ward and Frank Tang built great shelters covered in moss to keep the rain out too. Then we had stew around a campfire as it grew dark. Just as some of us began to wonder if we would have to sleep outside a member of the Adventure Centre gave us a tent and we fell asleep a little apprehensive of the Junior Cert Results we would receive the next day!
Next morning, after a breakfast of sausages, coco-pops and orange juice, we tidied up all the litter, broke down the shelters and then played games in the forest. When we got back to the other groups had returned from their activities and we all had lunch together. All anyone could do was talk about the Junior Cert Results! When everyone was finished eating we went to the common room where Mr McCormack, Mr Gray and Mr O'Donoghue had a few words with us before they gave out our results. I was very happy with mine and ran to the top of the hill (for reception) to ring my parents, who were delighted too!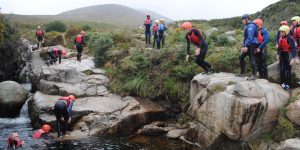 Banana Boats and Blindfolds
At 14:00, we started our next activity – kayaking. We paddled to a pier where we went pier-jumping and then kayaked back to the centre where we went banana boating. This is where you sit on a huge inflatable float (in the shape of a banana) and get pulled along by a speedboat that turns sharply to try and make you fall off. It was such good fun! After all the water sports, we got changed and were brought back to the campus. We had dinner and my pod was on clean-up after which, we got ready for our next activity-nightline just as it began to get dark. We all had to put blindfolds on and walk around the campus (through tires, thorn bushes and muddy holes) holding a rope for guidance. We also got soaked in water (thanks Mr O'Dongohue!) before coffee, biscuits and bed.
On Thursday our first activities were ziplining and box-climbing. In box-climbing one person had to put a harness on while the others had to build two huge towers made of crates that the person in the harness had to climb by standing on one tower while the other tower got bigger than moved to that tower while the first tower got bigger again. After zip-lining (which I'm sure needs no introduction!) we broke for lunch before going bouldering. This involved climbing up a stream bed in wetsuits and helmets, crawling through tight caves and jumping off high rocks into the stream below. Back at base we had dinner before our final activity (an archery competition) and were glad to hit the hay for the night.
Next morning we cleaned our pod, threw our bags in the trailer, said good-bye to all the members of the Rostrevor staff and got into the minivan for a last time. However, as I climbed aboard the old familiar 'Bartons Bus' I felt a small bit of sadness as I feel that I did not only leave Rostrevor behind but that I left a bit of myself there too.
 Jack D'Arcy