An Old Clongownian and a Knight of the Realm
On Thursday September 6th Clongowes was privileged to be visited by Sir William Sargent (OC'73) the founder and CEO of the visual effects giant, Framestore. With clients ranging from big Hollywood studios to major brands such as Coca-Cola, Volkswagen and Nokia, Framestore – the world-leading digital story-telling business employing 2,500 globally – continues to churn out high-end images for high-end clients in the film, music, advertising and design fields.
The Bafta and Oscar award-winning creative studio was founded in 1986 when Sargent and his colleagues realised that their creative aspirations were being inhibited and has gone on to become a major player in world cinema, TV and advertisng. The firm is responsible for the visual effects that can be enjoyed in Harry Potter and the Deathly Hallows, The Dark Knight, War Horse, the James Bond hit Quantum of Solace, Blade Runner 2049 and Avatar.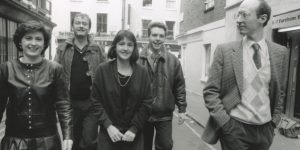 Yet despite his commercial achievements, Sargent strove for something more. Initially called in by the EU to work on a high-definition TV study group, Sargent was subsequently appointed to chair the Better Regulation Executive by Tony Blair in 2005 and went on to become a Non-Executive Director at the British Treasury.
A humble Irish man, Sargent had some qualms about accepting a knighthood from Queen Elizabeth II in 2008 for his governmental endeavours and he only uses the title on business cards in America. For someone who has rubbed shoulders with Hollywood heavyweights like Stanley Kubrick and Steven Spielberg as well as British Prime Ministers, Sargent has continuously sought to play down the trappings of his dual career.
On his return to his alma mater, William took a walk down memory lane before taking his audience on a tour through his back pages. He used an example from his days in Clongowes to illustrate the value of team work (and hard work) when he spoke of a rugby team of 'mediocre guys' that swept all before them for almost three years. Collaboration he insisted, was key, saying that – while not everyone is a star -everyone can be part of a star team.
Emphasising that making money is not a good reason to start a business, William encouraged his young audience to follow their dreams – and to be prepared to take risks. He noted the importance of failure in the quest for success, saying that it creates resilience and is a valuable learning experience. William closed by referencing his own early days and saying that it is important to have a vision – and that it is OK to spend time finding it.
Declan O'Keeffe, Head of Communications