On Wednesday June 6th, while many of their schoolmates commenced the Junior and Leaving Certificate Examinations, some 30 students from Clongowes assembled at Crumlin Children's Hospital to start pushing two eight foot high yellow ducks from Dublin to Limerick for charity.
The students at Clongowes first started pushing ducks along the 200km route in 1994 to raise funds for life saving medical equipment for Our Lady's Children's Hospital and have raised close to €2million to date. Equipment purchased has included portable ultra sound machines, an Ocular Coherence Tomography Machine for the Eye Department, a Getinge Autoclave for the Microbiology Laboratory and a Sepak Tissue Processor to help children who need bone marrow transplants.
€50,000 was raised in 2017 alone with the funds going towards the purchase of a 3D X-Ray Machine for the diagnosis of scoliosis in children (more here). This equipment gives doctors more accurate information to help improve diagnosis and treatment. In addition it means that patients face fewer x-rays and have less exposure to radiation as they simply step into the machine, which is more comfortable for them to use.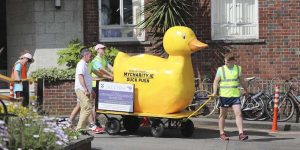 Our Lady's Children's Hospital provides care and attention for some of Ireland's sickest children and taking part in the Duck Push is an essential part of the Transition Year programme in Clongowes and the culmination of a year's hard work. Before pushing the ducks across the country the students had already raised money through a whole variety of activities ranging from mini companies and pop up cafes to coffee mornings, barbecues and a highly successful Golf Classic in the K Club.
The route followed by the boys (and their feathered friends) takes them through Clane, Newbridge, Monasterevin, Tullamore and Nenagh before they arrive in the Treaty City nine days and 200km later. The early days see them return to base for overnights while in the second half of the marathon they will be accommodated in Roscrea and Glenstal colleges.
So if you happen to see a brace of saffron coloured waterfowl trundling slowly across the midlands over the next few days, you haven't gone quackers! Don't blink. And don't hesitate to dig deep and contribute to a very worthy cause that really can change lives.
Declan O'Keeffe, Head of Communications