Inaugural AERPRIZE finals
On Friday 16thMarch Rhetoric student Paddy White, in the company of his sponsor, science teacher Ms Yvonne Nolan, took his place at the inaugural AERPRIZE finals at the Atlantic Flight Training Academy in Little Island Cork. Paddy's entry to the competition, a five-minute flight training video, one of over 150 team entries, secured him one of five precious places in the first ever final.
AERPRIZE was created to explore the role of science and mathematics in aviation, the aim is to inspire students to think about STEM in considering their career paths. Aviation and piloting provide an immediate, tactile, first-hand experience of maths and science applications. When you control a flying machine, the pilot's body can feel, see and hear the physics of flight in action. Chemical reactions produce propulsion, all governed by mathematical principles.
During the interview day, Paddy completed objective tasks and exercises that test hand-eye co-ordination, spatial awareness, and aviation-related aptitude, including training in a Boeing 737 flight simulator. He was interviewed by the Founder of Aero City Group, a Wexford man Seosamh Somers, whose generosity supported the competition. The afternoon was filled with a tour of AFTA's base at Cork Airport. In preparation for the final, Paddy spent some time with the Irish Aer Corps and Pilot Lt. Jamie Bray, a past pupil of Ms Nolan's, who drilled him in the physics of flight and the operation of the Simulator based at Casement Aerodrome.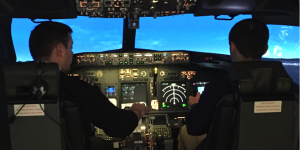 The passion for STEM
Senator Jerry Buttimer, the leader of the Senate, Minister for State at the Department of Defence, met the finalists and spoke about the need among us all to drive the passion for STEM in Ireland, uniquely placed post Brexit as the only English-speaking country in the EU. Each finalist received a framed certificate, to acknowledge their place as the first finalists in what will be a competition run every two years from this point on.
AERPRIZE is a collaborative effort among Angel City Flyers, the Long Beach, California flight school Somers founded and owns, the Irish Science Teachers' Association (ISTA), Atlantic Flight Training Academy in Cork, and the Institute of Physics in Ireland.
Apart from a love of all things mechanical, the prize, valued at $40,000 was incentive enough for Paddy. To have reached the final was an enormous achievement in the first year of the competition, set to rival the BT Young Scientist on the STEM stage for post primary students.
Under Ms Nolan's stewardship, Clongowes submitted two entries with Poetry students Alex Buckley, Sean Casey, Oisin Fagan and Max Turley describing Aircraft Electrical Systems. This team also spent time in Baldonell and many a late-night compiling and video editing for competition entry and were commended and received a letter of appreciation of their work and certificates of entry.
Ms Yvonne Nolan