On Wednesday 18th April Professor James Gleeson returned for his final visit to the Clongowes physics and applied maths students, who are involved in research projects with the Mathematics Applications Consortium for Science and Industry of the University of Limerick to develop mathematical models for real world problems. Professor Gleeson had already visited us in October and January to help us with our mathematical models, which we had developed bit by bit throughout the year when we met every Friday night under the guidance of Mr Stephen O'Hara.
At this stage the groups models are beginning to take their final shape. Professor Gleeson spent the morning listening to each group and discussing the problems they were encountering. His guidance was – as always – subtle and thought provoking, gently guiding without telling exactly in what direction the solution might lie.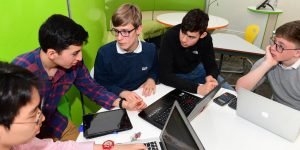 These models are, after all, the boys' creations. They have decided the approach, the techniques employed, the analysis to be undertaken and the shape of the solutions. There are plenty of incorrect possible models but there is most certainly no single correct model. This is a most valuable piece of learning about applied mathematics: that there are generally many solutions and approaches to any one modelling problem.
The Professor then invited the groups to the University of Limerick on Friday May 11thto present their models to students and staff of the Applied Maths Faculty. As always, it was a privilege to have Professor Gleeson visit the College and work with the boys, giving so freely of his time to inspire the next generation of applied mathematicians. Thanks are also due to Mr O'Hara for the massive amount of time and enormous effort he has put into the project throughout the course of the year.
Declan O'Keeffe, Head of Communications