The main concourse of the school was awash with forty shades of amber last December for the launch of the school's application for the Amber Flag. The project is similar to 'Green Schools' where a school must promote the values of the flag, with Amber symbolising Mental Health. Clongowes already does a huge amount of work inpromoting positive mental health and attaining this flag will signify our positive approachtowards Mental Health Awareness.
Before the Easter break we celebrated the International Day of Happiness and addressed the question of what gives us atruesense of happiness? This was followed up in April when we launched a 'Happy Wall' in the school concourse and invited all students and staff to post on the wall something that makes them happy or grateful for. The purpose of this wall was to continue our conversation in the run up to the Mental Health Awareness Day on Thursday, 26thApril.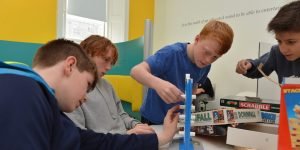 That day commenced in the Boys' Chapel with a very emotional and compassionate address around Mental Health from Ms Joan Freeman founder of Pieta House, that set the tone perfectly. Classes were suspended for all save Rhetoric and Grammar and the staff thus freed up pitched in with a will in all corners of the school, augmented by five outside facilitators. The boys moved from one activity to the next in their house groups led by the new fifth year leaders. The activities on offer includedswimming, dance, yoga, board games, meditation, table quiz and physical activities.
The day wound down where it had started with a final address in the Boys' Chapel by Mr Derek Lahart, a Counsellor and Psychotherapist at Pieta House.Mental Health Awareness Day was the final stage in achieving our Amber Flag and the last activity in a journey that began in November. Sincere thanks are due to all who were involved in achieving this accolade for Clongowes, which marks the end of a quest and the start of a journey.
Ms Anne Marie Dolan