Fordham Preparatory School Exchange
This academic year saw the launch of our exchange with Fordham Preparatory School in the Bronx, New York. Last November we welcomed some students and staff from the school to Clongowes and the good folk in Fordham reciprocated the invitation last month during the Mid-Term Break…
Fordham Prep is a Jesuit High School made up of some 1,000 boys who attend the school for a total of four years before progressing to College studies. Founded in 1841 the school is, as its name suggests, a Preparatory school for Fordham University and is located on the same campus in the Bronx. The Bronx captures an extraordinary microcosm of the vibrant city that is New York.
The area is a bustling metropolis made up of a multi cultural, multi coloured and multi dimensional way of life. In the midst of sirens, horns and the bustle of daily life sits Fordham University with a beautifully styled chapel, elegant 19th century cut stone buildings, as well as state of the art faculty libraries. Into this juxtaposed setting Clongowes has found itself – far away from the sylvan settings of our college, yet strangely at home with a fellow Jesuit school.
So, why Fordham? In short, it started with a walk on a hot July day in 2016 after venturing up by train from mid-town to Fordham. While strolling around the lush green campus a casual meeting with the Fordham finance director and an exchange of emails led to the establishment of a tentative agreement to explore the possibility of a relationship. What comes from a walk! Fordham has a long history of Irish immigrants entering its gates to work, study, teach and pray, and so it sits easy with the Irish community and way of life. Indeed, the Prep has its own Irish Society that meets on a weekly basis.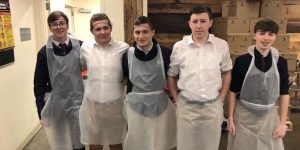 Part of a global network
However, it's also important for a school like Clongowes to remember that we are part of a global network, and the call of the Society to look outwards, beyond our gates to a world that can challenge, affirm and enable us to make concrete links with one of the great urban sprawls of the world. No matter who occupies 1600 Pennsylvania Avenue in DC, New York remains one of the iconic places to visit. There you find Wall Street, the Statue of Liberty, Broadway, The Met, 5th Avenue and St. Patrick's Cathedral, all co-existing in an uneasy, yet enduring relationship. New York was built by the Irish, policed by the Irish, blessed by the Irish and suffered with the Irish as well as a host of other nationalities. So, our link is obvious.
While at Fordham, our six students from TY spent the week living with their host families and partner students. They were not strangers when meeting at JFK but really just renewing friendships with those who had been at Clongowes last November. There was a warmth that ensured that the cold February weather remained just that – weather! So, while the boys went to their respective homes, the week truly began. Fordham Prep is a school of some 1000 boys aged from 14 – 18 years with a roll call that includes names such as Trombetta, Sullivan, Kennedy, McLaughlin, De Agosti, Angelo, Singh and so on.
It's a relaxed campus under the Presidency of Fr. Chris Devron SJ and school Principal Dr. Joe Petriello. The school has a friendly and easy manner; boys are very friendly, polite and hospitable, while staff are giving of their time, warm and welcoming. One senses an immediate affinity with Ireland and our shared heritage. Classes are taken in Math, Science, Literature, RE, Latin, Greek and Modern Languages. Sport plays a big role in the life of the school, from football, soccer [not the same!], basketball and athletics. Fordham students travel from quite far out, some leaving home at 07.00 (and earlier) to get to class for 08.35. The school day begins with prayer and the pledge to the flag before classes commence.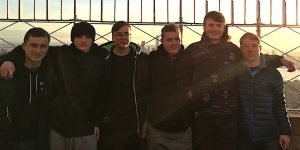 A rich week in so many ways
The boys spent time with families who have now become friends, while the week was packed full of activities and events including a walking tour of downtown, a visit to the 911 memorial, St. Patrick's Cathedral, a basketball game at Madison Square Garden, helping out at a soup kitchen, touring the university, and a talk on the history of the place. It was a rich week in so many ways.
A particular word of gratitude must go to the staff and students of Fordham Prep who made our time there so special. Thanks to the Jesuit Communities of Spellman Hall and Murray-Weigel Hall at Fordham University. However, special thanks go to three great people at Fordham: Ms Teresa DeVita Geremis, Ms Patty Simeone and Dr Trish Morris. Not only are they three exceptionally generous people, but they are also great fun. The welcome given by the 'three amigos' was second to none, so hopefully they will read this and know that they are held in the highest esteem in this part of Kildare!
The Fordham Preparatory exchange is based on a shared experience of being part of a Jesuit global school community. We cannot continue to speak of our Jesuit identity unless we live it practically and concretely. This exchange is an attempt to push beyond our boundaries and explore another part of the world – if only for 10 days in February. A special word of thanks to the Rector, Fr Michael Sheil SJ and Ms Margaret Doyle, who made such good travelling companions throughout. Hopefully from this fledgling inaugural visit from New York to Ireland in November and Ireland to New York in February will come the growth of friendship and experience that makes us who we are.
| | |
| --- | --- |
| Students from Clongowes | Students from Fordham |
| James Coonan | Jack Bennett |
| Ruairi Foley | Michael Trombetta |
| Eoghan Cumbers | Thomas Ward |
| Ben Boylan | Ryan McLaughlin |
| Rhys Hylle | John O'Connor |
| Pat Taaffe | Brendan Kennedy |