Belvedere College 26 Clongowes Wood College 7
The highest decoration given on Union Day in Clongowes is the Aloysius Award, named in honour of our patron, St Aloysius Gonzaga. The accolade is given for, inter alia, 'courage and determination in personal and communal life – for development of character [and] placing his talents at the service of others'. These characteristics and the character formation that they betoken do not come easily or quickly, nor do they emerge fully formed in the final year of school. Courage and determination are nurtured through many years spent in Clongowes and fostered though many activities and experiences throughout those years. One of these is rugby.
Yesterday in Donnybrook our Junior players were knocked back early and often by the young men from our sister school, Belvedere College, who ran in three tries on the 7th, 14th and 21st minutes in what was becoming an ominous arithmetical progression. Having coached at this level back in the day, we know how easy it is for young (or even older) heads to drop in such circumstances, when they are looking down the barrel of a gun.
That Belvedere would not score again for 30 minutes, that Clongowes would claw back seven points before half time (and be denied another possible seven not long after) and that our opposition would spend much of the middle portion of the game in defence all speak volumes about the character and integrity of the 22 players who gave everything for their school.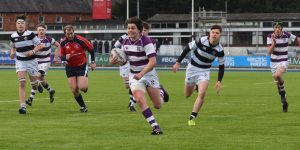 Nothing daunted
The facts of the match are easily told: Belvedere beat Clongowes by four tries to one (26-7) to advance to the semi final; but – as is often the case – the scoreboard does not tell the full tale. And this was a tale of derring-do. This was a tale of bravery and mettle shown in the face of adversity. This was a tale of courage and determination.
As noted, Belvedere were first out of the traps and very quickly disappearing into the distance. Three tries in the first 21 minutes (accompanied by two conversions) left Clongowes with a daunting task. But these young men were never daunted and worked their socks off for the remaining 39 minutes as they strove to close the gap and then – just maybe – to nose in front.
As ever, Captain Charlie Reilly led from the front and it was he who staunched the flow following a fine turnover from Marcos Roca and a searing break from Rory Morrin. Cool as a cucumber, scrumhalf Oisin Devitt slotted the difficult conversion from wide on the left ensuring that the boys had something in the locker as they trotted off at half time.
Clongowes owned much of the second half and might have clawed further back had a possible try in the corner not been over ruled. Undeterred they came again. And again. And again. The heroes were many – 22 by the close – and, while it is somewhat invidious to single out individuals, the likes of John Carroll, Leo Dowling and Hugh Wilkinson were primi inter pares throughout. They kept the engine turning in the tight and loose with ground eating rumbles and retained possessions that kept the opposition honest (and often on the back foot) while the backline was ever alert for possible line breaks in attack and vigilant in defence.
Digging deep
This was a Clongowes Junior team that had had a very poor return for all their efforts during the friendly season with a paltry four wins in sixteen encounters. This was also a Clongowes Junior team from the smallest year, numerically, in the school with six second year players on the pitch as the final whistle blew. But this was also a Clongowes team that dug deep when the game might have seemed to be up and made all of us watching very proud to be associated with them.
Hope may have been dashed in Donnybrook yesterday, but all hope should not be lost as many of these young men will be back in action next year and will have learned much from their experiences throughout the season. Kudos must go to the coaches, Messrs Condron, O'Donoghue and O'Hara, and to the enormous collective effort by the fifteen starting players and seven subs who gave their all on the Donnybrook turf yesterday and never – ever – said die.
Declan O'Keeffe, Head of Communications
Clongowes – C Reilly (capt); M Spillane, R Morrin, S Black (H McGrath 58), D Sholarin (S Noone 58); C McNamee, O Devitt (G Coman 53); M Roca, L Dowling (R MacGabhann 58), B D'Arcy (T O'Donnell 52), A Matthews (I Cruise-O'Brien 52), A Mannion, L Murray, J Carroll, H Wilkinson (F Gavigan 58).