There was a lot of emotion and no little joy in Clongowes when our newly laid all-weather pitch was re-opened on Saturday (13th January). The state-of-the-art facility was blessed by the Rector, Fr Michael Sheil SJ before the purple- ribbon was cut by our four most recent rugby internationals, Gordon D'Arcy, Rob and Dave Kearney, and Fergus McFadden. The Vinny Murray Pitch or VMP – as it is known – was named in memory of the late Assistant Headmaster and legendary rugby coach, who passed away in 1999. Saturday's event was bracketed between a Junior and a Senior match against Campbell College, Belfast and followed some words of introduction, reminiscence and celebration from the Headmaster, Mr Chris Lumb…
Good afternoon, ladies and gentlemen. A very warm welcome to you all. It is good to see so many here to mark our formal re-opening of the VMP. I trust that you enjoyed the JCT match and the lunch, and you are looking forward to the Senior fixture shortly.
Sport has long been at the heart of school life in Clongowes. The provision of an outstanding sports education programme accessible to all boys, which also recognises the special importance of rugby in the College's heritage and ethos, is our enviable challenge. Ensuring that rugby remains at the heart of our sports programme and encouraging the boys to achieve ever-higher standards are important priorities for us. We would hope too that they develop a lifelong passion for the game. This requires that the boys have access to the highest standards of coaching, support and facilities.
Our newly laid all-weather pitch will provide a facility of the highest quality to showcase our premier sport. It meets the latest standards set down by World Rugby, and the surface is the closest you can get to natural grass. I should like to thank our contractor, PST, for doing such a fine job, not least in completing the work within such a short timescale – to Colin and Ger Teahon, Kieran Donaghy and their team on-site, led by Stephen King, and to Eric O'Donnell from Sports Labs for his consultancy work and advice throughout the project.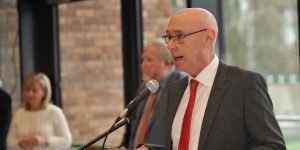 Welcome and thanks
I have some particular words of welcome and thanks this lunchtime. To the Board of Management led by Chair, Peter Gray, for its wholehearted support of this project. To the Chair of the College's Foundation, Joe Rooney, for his work in co-ordinating the fundraising campaign, and to parents for their generosity in financially supporting this refurbishment. We are bringing the campaign to its close though there is still time to contact the Foundation if you are mulling over making a donation. To all parents, those of you here today and so many others, thank you for the great support and encouragement you so generously give to your sons and their teams on the touchline, and in all kinds of weather!
To all the members of staff who have been involved in the project and in the lead up to the launch: to Denise Nichol, our Director of Finance and Administration who has lead this development with the support of Frank Kelly, Director of Sport, John O'Donoghue, and Director of Rugby, Daryl Maxwell; and to the many colleagues who have been involved in the organisation of today's festivities.
To our most recent rugby internationals, Gordon D'Arcy, Rob and Dave Kearney, and Fergus McFadden for joining us today. To Leinster Rugby for its continued support of Clongowes – represented today by Lorcan Balfe, the Senior Vice President, Denis Collins, Dermot O'Mahony, and Jonathan Newsome. To our friends from the North, Campbell College. Thank you to the Headmaster, Robert Robinson, SCT Head Coach, Brian Robinson, Performance and Development Manager, Neil Doak, all the staff and their Junior and Senior Cup squads.
And finally, on this special occasion of the re-opening of the Vinny Murray Pitch, I extend a very warm Clongowes welcome to Mrs Deirdre Murray, her daughters, Sarah and Louise, and Old Clongownian, Ross. It is a real pleasure to have you with us.
Vinny Murray
Vinny joined the staff of Clongowes as a teacher of PE and Economics in 1971, and taught both subjects with zeal and skill until his appointment as Assistant Headmaster in 1988. He carried out this role with complete dedication, faithful efficiency and wide-ranging vision until shortly before his untimely death on 30th December 1999, aged just 54.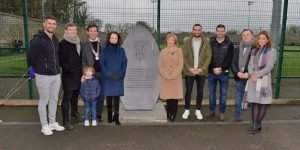 From the very beginning, Vinny threw himself into the coaching of games in general but his name will be forever associated with rugby in the school. He coached the game at all levels but none so successfully as with the Senior Cup Team where, in tandem with Fr Sheil, he saw the long-awaited cup success in 1978, the first of four such victories on his watch. Further triumphs followed in 1988 (with his successor as Assistant Headmaster, Martin Nugent) and 1991 (with Seamus Aherne and Brian O'Keefe). However, his crowning glory (Clongowes sports historians tell me) was surely the record-breaking team of 1998 (coached with Noel Murray), which featured one Gordon D'Arcy at full back,
Vinny's skills as a coach were also recognised at provincial and national level where he was appointed to the top job in both Leinster and Ireland Schools. Rugby recognition of a different kind came some four years after his death when the then state-of-the-art 'VMP' was blessed by Fr Sheil before hosting its inaugural match between the gentlemen of the past and those of the present on a chilly Monday in November 2004.
Ladies and gentlemen, it is a fitting tribute to Vinny's on-going legacy in the school, and the sport he loved so much, that the Vinny Murray Pitch is being re-opened today in his honour and in the presence of family, friends, parents and past pupils.
Chris Lumb, Headmaster