There was fantastic National and Regional success for our applied maths students this week!
Our applied maths students, coached by their teacher Mr Steven O'Hara, took part in the National Applied Maths Competition on Thursday, 3rd March.
In the Regional Final, Clongowes teams took 1st and 2nd place, and had the top Fifth Year team.

Overall nationally, Clongowes students came in 1st place thus retaining both the Regional and National Titles!
This was an outstanding achievement for the boys and their teacher, Mr O'Hara and we wholeheartedly congratulate them on their achievements that are the product of sustained hard work.
Applied maths is very popular in Clongowes, strengthened by the Maths Modelling Programme and sustained by the dedication of Mr O'Hara. The school was very well represented with some 27 students from Higher Line participating alongside students from schools all over Ireland.
Competing in teams of three the boys were challenged to solve problems against the clock. The competition consisted of eight rounds, with three questions per round. Questions were based on areas including, linear motion, relative velocity, projectiles (horizontal and inclined planes), pulleys and wedges, collisions as well as logic type questions.
Huge congratulations to each of the winners, the participants who represented the College so impressively and to Mr. O'Hara who prepared the teams for the competition.
Winning Team Members
Nicholas Moschenross, Cian Hickey and Sean Hallissey
Pictured above receiving their trophy.
Regional second place team
Harry Browne, Ciaran Ryan and Colin Simon Fellowes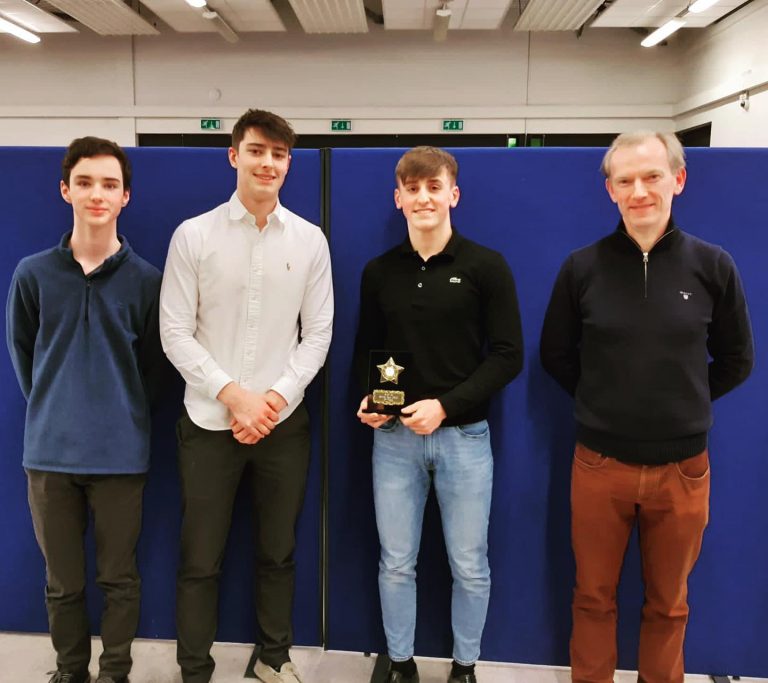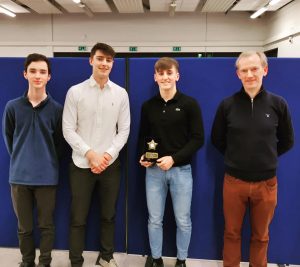 Top Fifth Year team
Jack Reed, Patrick Smyth, Tiernan O'Doherty.