The 4th annual Climate Action Week took place from October 12th to 18th and activities in Clongowes were led by our Green Schools Committee.
The annual awareness campaign on climate action highlights how climate change is impacting Ireland. The week-long initiative encourages students, teachers, and the wider community to talk about climate change and get involved in local climate action. Schools on the Green-Schools program will be actively reducing their carbon footprint through improved transport, energy, waste, water choices, or planting for biodiversity. By participating in the week their collective climate actions will resonate with the wider community, raising awareness of climate change.
The Green-School programme was set up by Joey Kennedy (Syntax) in January 2019. The programme has grown to now have 10 dedicated students who meet monthly to discuss climate change and how the College can continually improve its carbon footprint. As of last year, the College has also added a Green-School module for Transition Year students which is headed by Mr Burke.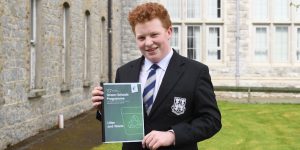 As part of this year's Climate Action Week, the school ran multiple initiatives and activities, these included art competitions, science experiments, evening showings of climate change documentaries, and the unveiling of this year's Green Schools slogan.
On the evening of Tuesday 13th, students showcased projects in the Sports Hall which they had been working on which were adjudicated by Mr O'Hara and Mr McGovern – this was followed by a showing of David Attenborough's new climate change documentary, "A Life On Our Planet".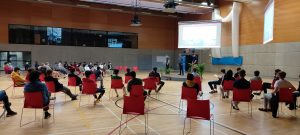 Wednesday saw the whole student body during their last class watch four short clips on climate change, this was followed by the boys making a class pledge on how they can improve climate change and alter the current trajectory of our climate crisis.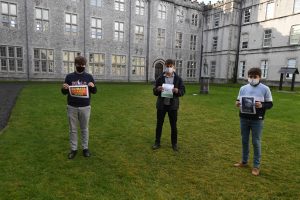 Finally, on Friday we saw our Elements art classes harnessing climate change as their muse, in which they put forward their best piece of art for judging by the Green-Schools Committee. The day was rounded off with a climate change quiz in the evening for Elements, challenging the boys on what they had learned throughout the week.
We would like to say a huge thank you to the Green-Schools Committee and all the teachers and students who took part in this week's initiative. Climate change is an ever-present issue in all of our lives and it is amazing to see our boys taking such a keen interest at such a young age.
During Climate Action Week, we received news from the OC community that David Dudeney (OC'15 and part of the music duo 'The Best Part') has released a climate awareness charity single entitled "Our House is Burning". David tells us that 100% of the proceeds from downloads of the single on iTunes will go to a wildlife conservation charity in Kenya called Sheldrick Wildlife Trust. You can download David's single on iTunes and Spotify. To find out more about David's music check out his website The Best Part Music.